World Bank support for Rio Grande do Sul Brazil's fourth largest economy
Wednesday, May 2nd 2012 - 05:30 UTC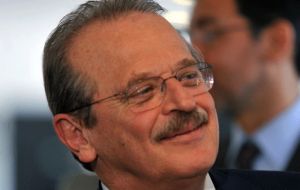 The World Bank approved a 480 million dollars loan to strengthen public investment in the Brazilian State of Rio Grande do Sul which will benefit around ten million people.
Through a set of green growth-oriented initiatives, the Rio Grand do Sul Sector Wide Approach will support a wide array of areas including private sector development, State's education and transport systems modernization, and environmental and disaster risk management improvements.
"Through this partnership with the World Bank, Rio Grande do Sul will take another solid step in the consolidation of a new level of economic and social development" said Governor of the State of Rio Grande do Sul, Tarso Genro. "We will increase the quality of education and invest and encourage the use of new technologies."
The fourth largest economy in Brazil, the State of Rio Grande Sul, which borders with Uruguay and Argentina, recently suffered a fiscal crisis that resulted in sharp cuts in public investments and services, with a disproportionate impact on the poor.
The effects of the crisis were also felt on the highway infrastructure, crucial for economic growth and market integration, and on the educational system, which has slipped from sixth to ninth in national rankings. Rio Grande do Sul also lacks a disaster risk management system, critical in a state that is increasingly affected by extreme weather patterns.
"Rio Grande do Sul has excellent prospects for overcoming its recent fiscal crisis and resuming economic growth. This partnership helps the government to realize that objective," said Deborah L. Wetzel, World Bank Director for Brazil. "The State combines a well trained work force with a strong base of technologically sophisticated companies, which can support the goal of combining growth with efficient public service delivery and environmental sustainability."
The Rio Grande do Sul SWAP will include technical assistance and funding to: Improve the planning and prioritization of public investments and strengthen the management of public assets; Strengthen private sector competitiveness; Support the State paved highway rehabilitation and maintenance program (CREMA) and strengthen infrastructure planning; Expand the use of information and communication technology in schools; support the renovation of school buildings; Design and implement an environmental disaster risk coordination and monitoring system, and improve the efficiency of the State environmental licensing system.