Olympic Games joins Falklands' dispute: "To compete in English soil, we train in Argentine soil"
Thursday, May 3rd 2012 - 06:38 UTC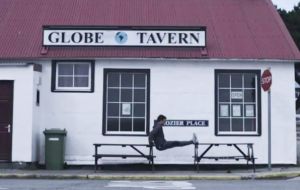 As was somehow anticipated by Ambassador in UK Alicia Castro's attitude, Argentina is determined to take advantage of the London Olympic Games global exposure to press for its claims over the Falklands Islands, as part of a plan allegedly called "Sowing for the Malvinas claim".

The first example of this unconventional plan was aired Wednesday evening in several Argentine open and cable television channels in a 90 seconds spot under the name of "To compete in English soil, we train in Argentine soil", has an Argentine Olympic athlete training in Port Stanley and outside the town.

The controversial advertisement to generate an impact amidst the conflict with the UK over the Falklands was made by the publicity agency Young & Roubicam and shows the Argentine men's national hockey team captain Fernando Zylberberg, taking off early morning, running the streets of Stanley and crossing before some iconic places of the town such as the Globe Tavern, The Penguin News offices, the wooden and hedge fence of Government House, among others.

The last image shows Zylberberg falling exhausted over the sand of some beach and a message appears that reads "To win in English soil, we train in Argentine soil". The video is posted in the Argentine Executive site and is dedicated as a homage to the Malvinas war fallen and combatants.

Precisely when the spot was being aired President Cristina Fernandez at a ceremony in Government House was inaugurating the Malvinas Islands Patio and stated that "we will continue to work hard, in all fronts in all democratic forums to keep adding consensus and promoting the idea of starting a dialogue" (with the UK on the Islands).

The spot obviously was filmed without the knowledge of the Falklands' authorities.

Likewise last year some lawmakers proposed that the Argentine Olympic team uniform include a banner or a label saying that the "Malvinas are Argentine". The initiative rests in Congress but given this year's coincidences we shouldn't be surprised if it is surfaced.