Cristina Fernandez admits the challenge of turning YPF competitive and efficient
Friday, May 4th 2012 - 06:15 UTC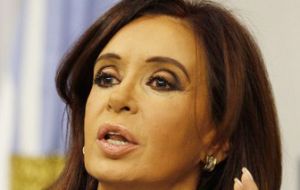 President Cristina Fernández said that YPF will be a "great challenge for Argentina" since it will have to turn into a modern competitive oil company in line with the interests of the country.
"We need YPF to be aligned with national interests. It is a lie that the interests of a private company cannot be in line with those of a country. This will be a great challenge for us" said the president while inaugurating a meat processing plant in the Greater Buenos Aires area.
She also blasted hedge funds and vowed "to never allow them to set their eyes in our country and our companies ever again".
"We would have liked that those who had the responsibility of investing, had done so, but we had to take over the company, as we did with Aerolíneas Argentinas", in direct reference Spain's Repsol who had the majority of YPF.
The Argentine president also made a side reference to those in Congress who remembered she and her late husband Nestor Kirchner supported the privatization of YPF during the late nineties, under President Carlos Menem. Furthermore there are plenty of records from the time where Kirchner can be seen praising Menem as the best Argentine president in decades.
"I'm stubborn and obstinate but not senseless: when I make a mistake I admit it and I don't insist in mistakes. Take notice of what I have said", underlined CFK. "What really matters is that the Argentine flag is never again lowered in our fatherland".
"I like to listen and when someone has better ideas, I feel delighted in going ahead with them".
However the main challenge is not managing a competitive company but ensuring sufficient supply of fuels in the coming winter months.
Argentina's oil production dropped to 35.3 million cubic meters in 2010 from 45.4 million in 2001, according to the most recent data published by the Argentina Oil and Gas Institute. YPF produces about 34% of the country's crude. Economic growth will slow to 3% this year from a yearly average of 7.7% since 2003.