ECB calls on governments to put "growth at the centre of the agenda"
Friday, May 4th 2012 - 00:36 UTC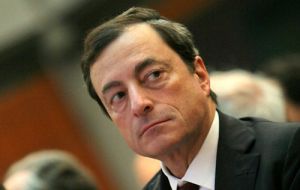 The European Central Bank, meeting in Spain on Thursday, held interest rates at historic lows but insisted it was up to governments to find ways of boosting growth without busting fiscal rules.
The central bank governors of the 17 Euro zone member states, convening in Barcelona's giant conference centre under tight security, voted to keep borrowing costs at 1.0% for the sixth month in a row.
Following a raft of recent policy steps to prop up the Euro and keep the single currency area's debt-wracked economy up and running, ECB chief Mario Draghi refused to give any indication when the bank might take further anti-crisis measures.
Instead, Draghi said the emphasis was firmly on governments to find ways of boosting growth without easing up on crucial efforts to get their finances in order. Economic growth and fiscal consolidation are not contradictory and governments can still rein in their public deficits without undercutting growth, he argued.
"There is absolutely no contradiction between a growth compact and a fiscal compact," Draghi told a news conference. "We have to put growth back at the centre of the agenda," he said.
A growing number of Euro zone countries are beginning to baulk at the belt-tightening measures prescribed by governments in a bid to rein in deficits as part of a recently agreed EU "fiscal compact."
There have been massive protests in Greece, just bailed out again, and in embattled Italy and Spain against such austerity drives.
It was Draghi himself who first talked of a "growth compact" to complement the fiscal compact but he rejected any idea that growth could come at the cost of bringing down deficits.
Easing up on fiscal consolidation would "not be very much help," he said.
The ECB has not hesitated to take on the role of fire-fighter since the very beginning of the crisis.
It reversed last year's rate hikes to bring Euro zone borrowing costs back down to an all-time low of 1.0% and resumed a hotly contested programme of buying up the bonds of debt-mired countries so as to ease their borrowing costs.
Most recently, two so-called long-term refinancing operations in December and February pumped more than 1.0 trillion Euros into the banking system in a bid to avert a dangerous credit squeeze.
But these measures, which were only temporary, "cannot replace ... either fiscal consolidation or reforms as the way back to stability," Draghi insisted, even if it would be "premature" to start winding them down.
"Several governments need to be more ambitious," he said.
While some countries had made substantial progress in reducing their deficits and reforming their economies, there was still a long road ahead for them.
"I think perseverance is very important to reap, in the end, the gains," Draghi said.