Falklands spot: Argentina trying to recover from "some diplomatic setbacks", says Hague
Friday, May 4th 2012 - 17:21 UTC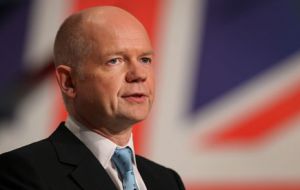 British Foreign Secretary William Hague has branded as a stunt an Olympic TV advert by Argentina featuring a hockey player training on the disputed Falkland Islands, described in the broadcast as "Argentine soil".
"Argentina has had some diplomatic setbacks in the last few weeks...and I think what's happening is that they're looking for one or two stunts to try to make up for that or save a bit of pride somehow," Hague told Sky television news.
"They have failed at the summit of the Americas to get other countries - South and North America - to issue a declaration on the Falkland (Malvinas) Islands," he told Sky News.
"Of course, it doesn't change our position on the Falkland Islands. We will always support the right to self-determination of the people of the Falkland Islands" he insisted.
Hague added: "I don't think trying to misuse the Olympics in some way for political purposes will go down very well with other countries."
The advert is the latest incident in a series of diplomatic spats between London and Buenos Aires over the past year, as the exploration of oil off the Falklands by British companies has reignited old tensions.
The broadcast aired the day after the 30th anniversary of the sinking of the Argentine cruiser Belgrano by a British submarine, which led to the loss of over 300 lives.
President Cristina Fernandez has launched a wide-ranging diplomatic offensive to assert Argentina's claims to the South Atlantic islands, accusing Britain of maintaining "colonial enclaves" and calling on London to open sovereignty talks.
When the spot was aired the first reaction came the following day from the Falklands' elected government who described it as a "piece of cheap and disrespectful propaganda" adding that "it is hugely disappointing to see sport abused in this way, when it is so often seen as a vehicle for unity. It seems an act of desperation to sink to this".
The video was filmed last March with the excuse of a local marathon competition and no knowledge from the Falklands' government.
In its statement the Falklands' Legislative Assembly argues that in spite of Argentina's efforts to try to ignore Islanders "we do exist, and as with all people we have rights. We are our own people, who through nine generations have lived and worked in these islands for nearly 200 years".
"We determine our own future, and we will not be bullied by the Argentine Government, neither by their attempts to undermine our economy, nor by their constant misrepresentation of the truth, nor by pieces of cheap and disrespectful propaganda".