Falklands' spot: UK regrets Argentina's attempts to exploit and politicise Olympic Games
Friday, May 4th 2012 - 16:52 UTC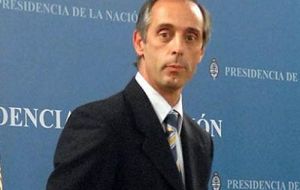 The British Foreign Office criticized a controversial spot showing an Argentine athlete training for the London Olympic Games in Port Stanley, in the Falklands as an attempt to exploit and politicise the Games.
The video, an Argentine House of Government initiative, went public this week spurring reactions by both the British media and the government.
"We are saddened at this attempt by Argentina to exploit the Games. The Olympics is about sport and not politics. We are also dismayed at the insensitivity and disrespect demonstrated by the filmmakers in their use of a World War One memorial in the Falklands as a prop," remarked a spokesperson for the British Foreign Office.
Once again the British administration strongly defended the Islanders' right to self-determination and disputed the Argentine sovereignty claim. "The people of the Falklands are British and have chosen to be so. They remain free to chose their own futures both politically and economically and have a right to self-determination."
"There are three parties to this debate, not just two as Argentina likes to pretend. The Islanders just can't be written out of history" added the spokesperson.
Filmed without permission from the Islands' authorities, it contradicted a recent denial by the Argentine government that it would seek political gain from the London Games which take place from July 27 to Aug. 12.
Argentine Sports Secretary Claudio Morresi told Reuters last month: "The Argentine delegation will travel to London with the conviction in their minds and hearts that the Malvinas are Argentine but all they will be going to London to do is take part in the sporting event."
The advert showed Argentine hockey captain Fernando Zylberberg, who will be competing at the London Olympics, going through early-morning training exercises in the Falklands.
He is shown running past several symbolic British landmarks like the Globe Tavern in the capital Port Stanley, the offices of the local paper "Penguin News" and a red telephone box. Most controversially, he uses a memorial to World War One British soldiers to perform a series of step-ups.
The 90-second ad ends with the voice-over: "to compete on English soil, we are training on Argentine soil."
Malvinas are Argentine but all they will be going to London to do is take part in the sporting event."