Y&R holding condemns Falklands-Olympics spot and asks Argentine government to ban the ad
Friday, May 4th 2012 - 21:31 UTC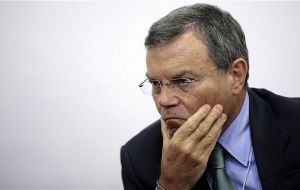 WPP international advertising holding on Friday regretted a controversial TV spot showing an Argentine athlete training for the London Olympic Games in Port Stanley, Falkland Islands.
The spot was tailored by a WPP local subsidiary for the Argentine government and has spurred reactions by the British government and media as well as the Olympics community.
Sir Martin Sorrell, the chief executive of the world's largest marketing group WPP, said he was appalled by the campaign and that his subsidiary had called for the Argentine government to ban the commercial.
The TV ad was secretly filmed on the Falkland Islands by WPP-owned Y&R Buenos Aires and features hockey player Fernando Zylberberg training at British landmarks with the strapline, "To compete on English soil, we train on Argentine soil".
In the ad, Zylberberg is shown frowning at a Union flag, before running past Falkland Island landmarks, such as the Globe Tavern pub, the offices of newspaper Penguin News and a red telephone box, before doing step-ups on a memorial to those who fell in the First World War.
The ad is entitled: "Olympic Games 2012: Homage to the Fallen and the Veterans of the Malvinas".
Sorrell said that the ad, screened in primetime in Argentina, was "totally unacceptable" and that an investigation into how the campaign was authorized internally is now taking place.
"I'm appalled by the ad and Y&R have issued an apology," said Sorrell. "We are conducting an investigation and will decide what action to take."
The US headquarters of Y&R has issued a statement condemning the actions of its subsidiary and called on the Argentine government to ban the commercial.
"It has come to our attention that our agency in Argentina created an ad for the Argentine government that has deeply offended many people in the UK and around the world," the statement said, adding: "We strongly condemn this work and have asked the Argentine government to pull the spot."
The agency pointed out it believed "it was never the intention of the ad's creators to desecrate a war memorial", but "they behaved in a manner that is unacceptable to our company."
WWP said, furthermore, the agency's policy opposes involvement in anything politically motivated. "This spot was also offensive to the Olympics spirit. Whatever it was the creators set out to highlight, what they produced is contrary to everything that we as a company stand for."
Thus, the company apologized for the advert and regretted the incident. "We are deeply regretful for the pain this ad has caused and apologize to the many that have been rightly disturbed by it, as have we," it stressed
A spokesperson for Y&R added that the campaign was "offensive to the Olympic spirit" and the ad was "contrary to everything we as a company stand for".