YPF vote splits opposition Radical party; dissenters blame government for the energy policy
Friday, May 4th 2012 - 06:11 UTC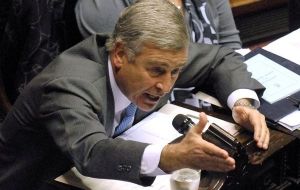 Even when the YPF nationalization bill in the Argentine Lower House was passed with support from most opposition parties, including the two main groupings the event was not without incidents.
Speaking to the media before the final vote, Radical Party's Oscar Aguad assured that a large majority of his Radical fellow-lawmakers rejected the YPF bill sponsored by President Cristina Fernández, but they have been "pressured during the past two weeks" to back the project.
Aguad was one of the first lawmakers to make public his disagreement with the project presented by the Argentine Executive power and after making public his disagreement left the floor, since his party had decided to support the controversial legislation.
The Deputy said he would not be an accomplice of the energy policy of the Cristina and Nestor Kirchner administrations that are responsible for the current oil and gas crisis in Argentina, and not the corporations. "The government set the rules of the game, and now they want us to help them out of the fire they caused"
During a radio interview with the Buenos Aires radio station La Red AM, Aguad remarked that "There are many Radical party's lawmakers that think the same as me and were willing to join me, but unfortunately that have been pressured for the last to weeks to don the contrary and vote in favour of the bill."
Aguad justified his rejection to the bill saying that "I don't want to be accomplice of the national government who is responsible for the current energy crisis."
But the head of the Radical Party's bloc in the Lower House Ricardo Gil Lavedra asked his Deputies "to not go against the party's organic resolutions".
Likewise, Radical Deputy Ricardo Alfonsín aimed to Aguad by saying that there are colleagues "that seem to show no trust in the Argentine State, and instead believe that leave everything to the market is the best that can happen to the country".
In spite of the ample support in Congress and in the public opinion for the seizure of YPF, Argentine oil and gas industry experts point out that the decreasing production and loss of reserves (and soaring fuels import bill) can only be blamed on the fact that fuel is highly subsidized, which is sustained by paying the companies operating and extracting in Argentina, 40% of the international price.