Uruguay supports Argentina's seizure of YPF but countries decide "proceedings"
Saturday, May 5th 2012 - 06:26 UTC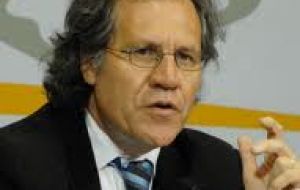 Uruguayan Foreign Minister Luis Almagro backed Argentina's controversial decision to nationalize the country's biggest oil company YPF arguing countries' right to recover a strategic market is "indisputable".
In an interview with Madrid's El Pais, Almagro stressed that "the sovereign decision of a country to expropriate or nationalize the business of a strategic market is indisputable." He refused, however, to comment on the nationalization proceeding that spurred controversy and criticism by the Spanish government.
"Definitively I can't pre-judge the proceeding, for or against, because I imagine that will be a matter for the courts to rule", indicated the Uruguayan official.
He added: "If tomorrow Spain's national government wishes to nationalize or expropriate Repsol, we would support that decision," Almagro said. But Almagro repeated that Argentina's approach to the takeover could land in court.
In whichever the case could be, "it's a particular manner in which Argentina resolves a specific issue, as it is a particular manner in which Bolivia resolves a specific issue," Almagro added in reference to the expropriation of the Bolivian division of the Spanish utility Red Eléctrica de España (REE) on May Day.
Likewise Almagro assured Latin America was a safe place for foreign investments and highlighted that the Spanish companies have been successful and profitable, "with good results" in the region. He also said excluding Argentina from negotiations with the Mercosur would be "unthinkable".
"It's unthinkable that the European Union (EU) can negotiate an agreement with Mercosur trade bloc leaving Argentina aside", underlined Almagro who is currently in Madrid on an official visit to promote bilateral ties after the rise to power of the Conservative Partido Popular.
"This scheme in which the four of us negotiate (Argentina, Brazil, Paraguay and Uruguay) with the European Union is the only one feasible, the only one that will work these days," Almagro said according to the Spanish news agency EFE.
"If each member negotiates on its own, who loses? Uruguay. Most will want discussions with Brazil, a few with Argentina but, who would want to negotiate trade and investment issues with Uruguay", insisted Alamagro.
That is why "I believe the EU can't and mustn't say 'we are going to negotiate with three countries of Mercosur', the same way we couldn't say we only want to hold talks with Spain, France and Germany, we're not interested in the rest".
Almagro met with his Spanish counterpart José Manuel García Margallo. The ministers discussed aspects of the upcoming Ibero-American Summit scheduled to take place in Cádiz in November, and where Argentina's decision to takeover the oil company YPF from Spain's Repsol could be an issue.