Record season for the Falklands Meat company with over 540 tons processed
Monday, May 7th 2012 - 05:04 UTC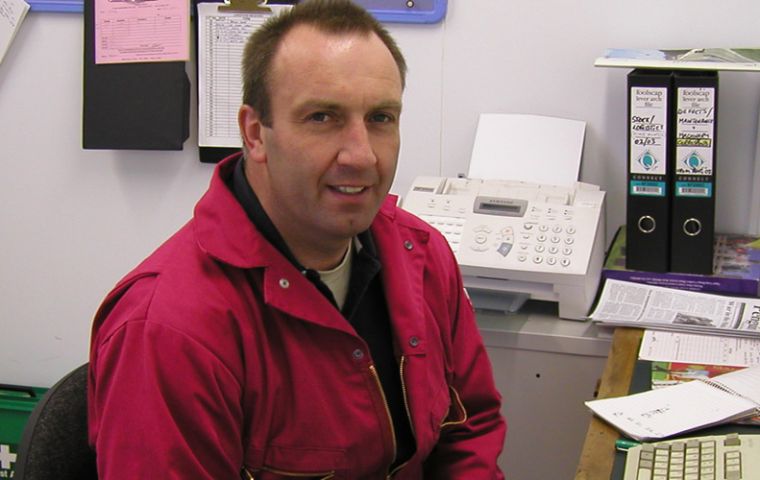 Despite logistical issues in the early part of the season the Falkland Islands Meat Company, (FIMCo) completed a record breaking high season on April 27, with 47,200 sheep and lambs processed and over 540 tons of meat and offal produced, earning farmers more than £1million for their animals.
Manager John Ferguson when asked whether reports were accurate that the company had suffered through payments from overseas buyers being delayed explained there had been difficulties with "the first couple of shipments which meant a delay in the customers receiving the product and therefore farmers being paid," however, he confirmed, "all is back on track now."
At that time the company was granted an extension of its overdraft to assist in the short term.
He added: "During the 2011-12 financial year it is expected that over £1million will be paid to farmers for the first time also."
Mr Ferguson said although lamb volume was slightly down on projections due to the very dry summer, "overall numbers were better than the 46,000 total budgeted, with over 50% being lamb."
He said productivity was increased by over 40% per day on average rising from approximately 550 in 2011 to 750-800 plus in 2012. 43,800 (93%) of the skins were salted and shipped to Hong Kong in China and 46,500 (98%) casings and small intestines were processed and shipped to Egypt.
"The completion of the major Sand Bay upgrade has made all the difference to productivity and efficiency, as was planned," said Mr Ferguson.
He said: "Export sales have been more difficult this year, because of the Euro crisis, but most of the product has been sold and shipped, with only three containers left to sell, which we expect to confirm shortly."
The Falkland Islands Meat Company operates from Sand Bay, south west of Stanley, which is an EU accredited export meat plant (designation FK-01) and is approved for mutton, lamb and beef exports.
Export production is carried out between January and April/May, and the local market is supplied with lamb, mutton, pork and beef.
The plant undergoes regular audits; from export customers, veterinary authorities and EU inspectors. Company quality control procedures are utilised. (Penguin News)