Colombian group interested in HSBC assets in Peru, Uruguay and Paraguay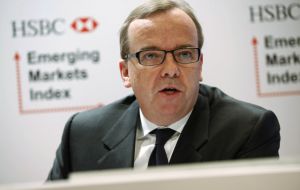 Banking giant HSBC Holdings PLC said on Thursday it is in talks on a possible sale of its operations in Colombia, Peru, Uruguay and Paraguay
The UK-based bank didn't elaborate on the talks in a brief statement to the Hong Kong stock exchange, but said it will make a further announcement "if and when appropriate."
The news comes as several banks continue to reassess their global footprint amid tightening local regulations and increased pressure to build up capital reserves.
In HSBC case, the bank's decentralized model means that there are technological differences and management overlaps that cause inefficiencies.
HSBC Chief Executive Stuart Gulliver last year announced that the bank would reassess its global businesses and cut around 30.000 jobs. To this end, the bank is retreating from businesses where it is too small or inefficient. The bank also wants to focus on attracting more wealthy customers.
The London-based bank operates in 85 countries and Gulliver is trying to sharpen its focus on fast-growing Asian markets. There are some 70 offices in the four Latam countries out of nearly 3.600 offices in the Americas, HSBC website showed.
Underlying profit before tax from Latin American operations grew 21% last year to 2.23 billion dollars, according to HSBC balance sheet.
Since launching the restructure last year, Gulliver has announced about 25 deals, which will cut 50 billion in risk-weighted assets from balance sheet. It has shed 14,000 jobs as part of the revamp.
According to banking sources in Montevideo the buyer is a Colombian group led by Jaime Gilinski, GNB Sudameris who had unsuccessfully tried to take over a restructured Uruguayan bank which was finally purchased by Canada's Scotia Bank.
However unions' sources said that Brazil's Itaú bank could acquire the HSBC's Premier business which is the private banking for clients with big deposits while the Colombian group will keep the corporate and consumers' business branch.