Industrial sales and employment in Brazil gradually picking up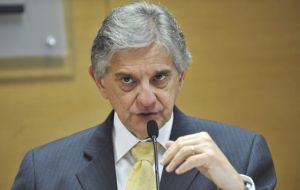 Brazil's use of installed industrial capacity fell for a second consecutive month in March, despite a continued recovery of industrial sales during the period, Brazil's National Confederation of Industries, CNI, announced.
The group reported utilization of industrial capacity fell on a seasonally-adjusted basis to 81.5% in March from 82.0% in February. The result was also down from 82.7% in March 2011.
The decreased use of capacity reported in March, however, came alongside growth in industrial sales, which rose 0.9% from February. Sales were also up by 3.6% from March 2011.
Industrial employment, meanwhile, was up 0.3% from February and by 0.4% from March a year earlier.
CNI officials said the latest industrial figures showed that Brazil's economy had begun to show signs of recovery despite a lag in the resumption of use of capacity.
"There are some signs of a recovery in activity," said CNI chief economist Flavio Castelo Branco. "We can't say for sure yet that it's a tendency, but the numbers in March were positive and corroborate the idea that we'll see continued improvements in the second half of the year."
The latest figures come as the government continues efforts to counter a recent slowdown in the local economy.
Brazil's economy grew by only 2.7% in 2011 after a 7.5% expansion the previous year. According to central bank market surveys, analysts project growth at about 3.2% this year.