As in Hitler's time, the Olympic spirit exploited for political purposes
Friday, May 11th 2012 - 12:29 UTC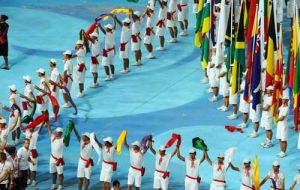 By Harold Briley - Hitler exploited the Olympics. Argentina's cynical and infantile exploitation of the Olympic Games for political purposes is a reminder, if any is needed, of its persistent failure to abide by accepted standards of honesty and decency.
The whole episode demonstrates again just how untrustworthy and deceitful Argentine governments can be. Argentina's own Olympic competitors say it has been damaging to their morale, already deflated by their government's import restrictions forcing customs delay in releasing equipment they need.
The President's ploy is counterproductive and aids the Falklands' cause. It is an affront to thousands of athletes who compete in the spirit of the Olympics and in the belief that politics have no part in sport.
It is a pity that a country that produces many fine sportsmen and sportswomen does not accept this.
Its conduct illustrates that it has not grown up as a nation. The athletes who foolishly featured in the furtive plot to produce a propaganda film should be ashamed not just for lending themselves to the government's malevolent manoeuvres but also for their disrespect of a monument to British war dead.
Contrast this with the respect that the United Kingdom showed to the Argentine war dead and their families, permitting a fitting memorial and cemetery at Darwin and freedom of access to relatives and friends.
Hardly had the guns fallen silent than the Argentines were exploiting their own dead for political purposes. The British offer to return the bodies of Argentina's war dead home was rejected with the cynical argument that they were already buried in Argentine soil.
The Falklands Roman Catholic priest justifiably remarked that the British had treated the Argentine dead better than their own officers had treated the conscripts when they were alive, starved and inhumanely punished.
It is not the first time the Olympic Games have been exploited for political purposes. The most notorious were the 1936 Berlin Olympics, used by Hitler to mask the true nature of a vicious, racially- vindictive, anti-Semitic regime.
Why does that sound familiar? Argentina supported Hitler, gave sanctuary after 1945 to thousands of Nazis, and imbibed Nazi tendencies, as exemplified by the dictatorship which invaded the Falkland Islands.
President Cristina Fernandez de Kirchner has facilitated trial and punishment of the Junta leaders.
A democratically elected leader should not need to stoop to such stunts as the Olympic propaganda ploy. It is a poor substitute for mature rational argument over sovereignty. It shows the paucity of Argentina's case and all the more reason to keep the Falklands free.
By Harold Briley OBE, England
Former BBC Latin America correspondent.