Sightings of blue whales in the south of Chile has grown significantly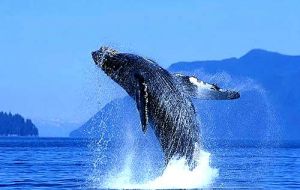 The number of blue whales sighted in the south of Chile increased significantly this austral summer as the cetacean approached the area to feed on the rich waters of the south Pacific according to a scientific report from the Austral University Blue Whale Centre released this week.
"Even when the largest mammal on earth is still in the endangered species list, we've sighted around 115 groups of these cetaceans just a few miles off the coast from Valdivia", said Rodrigo Hucke and Jorge Ruiz, responsible for the report which is basically a monitoring of the whales in the rich in nutrients waters of the Chiloé archipelago.
"What we are finding out is that as we move further north in our prospecting, the feeding area of the blue whales is far larger than we thought, we're talking of 600 kilometres of lineal coast along which the whales feed", added Huckle.
Until the beginnings of the XXth century the Chilean coast hosted an important colony of this species which took advantage of the excellent feeding grounds of the austral waters including abundance of krill.
But the blue whale population was cut down to a mere 1% because on the intense indiscriminate captures done during early last century.
The two investigators have also been asked to check if it could be possible to establish sighting places for the blue whale thus promoting tourism in southern Chile. However Huckle said it was too soon to have a definitive answer because the whales are proving to be quite mobile, following the abundance of food.
"There are zones where this kind of tourism in summer months could be developed depending on the navigability and presence of the blue whales, but we also want to make sure everything is neatly planned and contemplated, the last thing we want is that an influx of tourism initiatives ends having a negative impact", concluded Huckle.