Top trade officials invite Brazilian companies to invest in East Germany
Saturday, May 12th 2012 - 09:17 UTC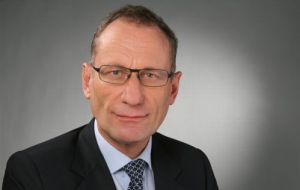 A top visiting German trade official appealed to Brazilian companies Thursday to invest in Europe's largest economy, particularly in the former East Germany taking advantage of the country's know-how.
"The purpose of our visit is to invite companies and entrepreneurs from Brazil to Germany," the head of Germany's GTAI trade and investment agency Jurgen Friedrich.
"Now with more and more companies in Brazil facing challenges from competition in their domestic market and abroad, it is time for them to partner with German companies or tap German R&D (research and development) that would help them stay or become competitive."
Pointing to German firms' "tremendous interest" in investing in Brazil, Friedrich said "we believe Brazilian firms need to expand and invest in other markets and Europe, despite the Euro zone crisis, is one of the most important markets".
Friedrich who is on a two-day visit to Sao Paulo after a stop in Rio, said Brazilian companies, should follow the lead of their Chinese counterparts, which have already set up operations in Germany.
He highlighted good opportunities for Brazilians to invest in renewable energy, agro-business, biochemical engineering, services and consumer goods. "Let's take renewable energy: we have a very strong market in Germany, one of the largest for wind energy.
We see interest from Asia and the United States in areas where we have some fluctuations in the energy grid," Friedrich said.
"There is still room for others to add new components." He said German business was generally very bullish on resource-rich Brazil, now the world's sixth largest economy.
"It's the size of the economy, the growth and the fact that more and more companies are on the verge of international outreach," he added. Friedrich's team, which was hosted by the Brazil-Germany Chamber of Commerce, attended a seminar to promote eastern Germany's business opportunities.