Bio-fuels expert forecast Argentina will become EU main supplier in spite of Spain
Monday, May 14th 2012 - 23:22 UTC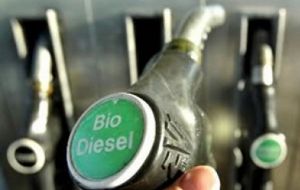 Bio-fuels expert Christopher Berg and head of F.O. Licht forecasted that Argentina this year will become the largest exporter of bio-diesel to the European Union in spite of the Spanish veto to imports in retaliation for the seizure of YPF.
During the recent "World Bio-fuels 2012" held in Sevilla, Spain, Berg anticipated that the volume of Argentine bio-diesel which Spain will not acquire this year will be absorbed by other EU countries.
"The conflict between both governments over the expropriation of YPF does not seem to change much the situation; maybe the influx of exports inside the EU might change but you can be sure Argentina will become the main supplier of bio-diesel to the EU", underlined Berg.
He added that paradoxically the bio-fuels sector does not enjoy an institutional support in spite of the fact it produces cheaper and less contaminating fuel.
"In some places ethanol is cheaper than gasoline but the sector has lost its place in the political debate, maybe as a consequence of the serious damage inflicted to bio-fuels reputation because of claims it pushes the prices of grains and oilseed, thus "causing hunger" plus 'unfounded' accusations it is major generator of 'greenhouse gas emissions".
Likewise Oyvind Vessia, from the EC Energy Department recalled the crucial role of bio-fuels in complying with EC rules which has the goal of reducing transport gas emissions 6% by 2020.
Vessia said that stats show that in spite of this objective the 'greenhouse' gas emissions effect is growing too rapidly in the transport sector and it is also where less green technologies are been taken advantage of and applies.
Three weeks ago the Spanish Vice-president Soraya Saenz de Santamaría, assured that the purchase of bio-diesel will be limited and underlined that Spain had received an enormous international support for the announced measures.
According to the European Commission stats Argentine exports to the EU received special tariff and customs benefits to the value of 2.4 billion Euros, which represents a drop of 27% of total Argentine sales to the EU that year.
The "World Bio-fuels 2012" congress was organized by Spain's Focus-Bengoa and F.O.Licht.