"Interest rate has been falling not to please Dilma", says Brazil Central bank chief
Monday, May 14th 2012 - 05:38 UTC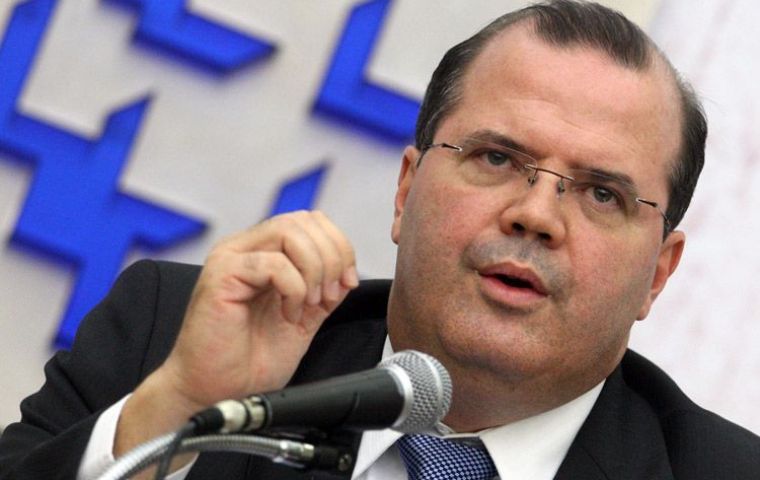 The central bank remains independent and the current interest-rate cutting cycle is driven by specific economic factors, not pressure from President Dilma Rousseff, Brazil's central bank President Alexandre Tombini said in an interview in the Sunday edition of O Estado de S. Paulo.
"The Selic has been falling, leading to a significant reduction in the real interest rate, because of a very specific combination of internal and external factors, and not to please President Dilma," Tombini said.
Tombini said policymakers are considering cutting rates below the current 9% because the global economic outlook deteriorated after the release of monetary policy meeting minutes in March, in which policy makers said the benchmark rate would fall to just above historic lows.
But the central bank president also said that if rates had to be raised again in the future, "I wouldn't hesitate. But rate hikes would start from a much lower level of real interest rates".
"Economic cycles will always exist" Tombini said. Brazil has for many years operated at a point of equilibrium based on very high interest rates, he said. Using this opportunity to lower rates could lead the economy to a better point of equilibrium, although he emphasized it must always be anchored on central bank autonomy and a functioning inflation-targeting system.
Likewise Tombini said global growth potential may have fallen because of the effects of financial crises on the real economy, adding that Brazil's 7.5% growth in 2010 "is well above Brazil's potential". He added that 4% growth in Brazil would be satisfactory, declining to give an estimate for 2012.
President Rousseff set a goal of bringing down interest rates when she first took office, and recently authorized a change in savings accounts that would allow the central bank to cut interest rates below 8.5%. There has been some criticism that she has been forcing the central bank to cut rates, even though inflation has been falling, as many economists expect price pressures to resurge later this year as the economy picks up.
In related news Estado de S Paulo reported the Brazilian government is projecting 3% growth this year after lowering expectations, according to unidentified government sources.
Government officials acknowledge the Finance Ministry's 4.5% growth target for 2012 is no longer realistic, the Sao Paulo- based newspaper said. New measures to encourage growth may be announced starting in June, once Brazil's first-quarter growth figures are released, the newspaper said.