Italian lawmakers support "a more relevant role" for Argentina in the Malvinas dispute
Tuesday, May 15th 2012 - 08:16 UTC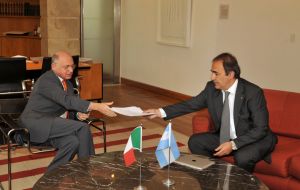 Forty-eight Italian senators and lawmakers expressed their public support for Argentina's sovereignty claim over the Falklands/Malvinas Islands in a letter sent to UN Secretary General Ban Ki-moon, the Argentine Foreign Ministry announced on Monday.
A copy of the letter was delivered to Foreign Minister Héctor Timerman by Italian lawmaker Ricardo Merlo.
The letter allegedly reflects "the will of a group of lawmakers who, despite belonging to different political parties, unanimously share the need to acknowledge that the Argentine Government's has a more relevant role in the Malvinas Islands conflict."
The Italian lawmakers praised Ban Ki-moon's willingness to act as mediator in the conflict, something that has already been requested by several countries and international organizations.
However, they also warned that "they await, sceptical but hopeful, to see how the UK will react to the proposal and if, as Argentina has already done, the country will accept the UN's mediation on the matter or will continue going its own way without paying attention to the calls for dialogue."
Lawmaker Ricardo Merlo, born in Argentina and a Malvinas War veteran, also signs the letter since he represents those Italians living in South America in the Roman Parliament.
The Italian parliament has 945 members, of which 630 in the Lower House and 315 in the Senate.