"I'm predictable, no shocks" says CFK after Tuesday's mini run on the US dollar
Wednesday, May 16th 2012 - 06:51 UTC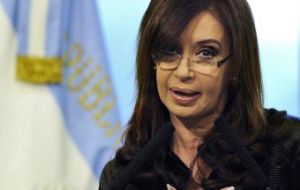 After a day of intense trading in the 'blue' (informal) market for US dollars which reached a new high of 5.50 Pesos, Argentine President Cristina Fernández assured on Tuesday evening that there will be no economic 'shocks' or a 'system of multiple exchange rates' as "has been rumoured during the whole day".
"Apparently there are people who are determined to speak badly of Argentina. They say that the Economy vice-minister has mentioned four or five exchange rates" said Cristina Fernandez blasting rumours involving Axel Kiciloff, considered the new brains behind the current Argentine economic model.
As CFK inaugurated the Youth Room in the Lower House of Congress, in what was late President Néstor Kirchner's office, the Head of State stressed: "Please do not believe anything. This President is absolutely responsible and predictable. Forget about all those rumours: there will be no concerns and no shock whatsoever," she insisted, despite the tightening controls on dollar exchange.
"Let us be sensible and not believe the first thing we see or the first email we receive," she added.
"We are determined to make things work and in the right way in Argentina. And we believe that the Argentines that want things to work and improve and that Argentina advances, we are the overwhelming majority", insisted the President.
"What build a nation are actions, policies; right or wrong words can disunite, but we must show unity and determination" said Cristina Fernandez addressing an auditorium with young militants from youth organizations, among which La Campora from her son Maximo Kirchner, plus lawmakers.
Earlier in the day the Argentine president assured that "keeping up investments will be as important as keeping up the aggregate demand" while heading a ceremony in a Greater Buenos Aires area alongside Buenos Aires province Governor Daniel Scioli.
The event of sharing the stage was considered significant since Scioli a few days before had announced that he has presidential hopes for 2015 which triggered furious reactions from ultra-Kirchnerites and caused mounting tension between the pro-CFK and the pro-Scioli groups.
However, the Head of State did not mention Scioli's comments and focused on urging everyone "to make his part and take their share of responsibility with a strong commitment with this Argentina we are all building together."
Regarding the international economic crisis, Cristina Fernández said "it is unbelievable that people still believe that this kind of austerity measures will help economies. There is a lack of common sense. Economies will not grow based on a restriction to consumption."
"I urge my colleagues of other parts of the world to make consumption and production the keys of all global policies to fight against this crisis, which began in 2008 and does not seem to have an end".