Repsol cancels contract to supply Argentina with LNG; YPF ensures supply
Friday, May 18th 2012 - 22:39 UTC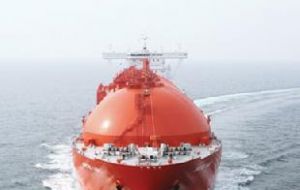 Spain's Repsol has cancelled its contract to supply Argentina with liquefied natural gas (LNG), just weeks after the country seized control of the company's majority stake in YPF, a document obtained by international news agency Reuters showed.
Argentina relies on LNG imports to meet between 20 and 30% of domestic natural gas consumption. The country will have to find a new supplier quickly to avoid energy shortfalls as demand peaks from June to September.
Repsol said in a letter to Argentine state energy company Enarsa, dated May 17, that Enarsa had breached the LNG contract by seeking to renegotiate the price of shipments and modify the timetable for deliveries.
Repsol had agreed to supply Argentina with 10 LNG ship cargoes this year. Earlier this month, an energy sector source said the Spanish company might halt the sales.
Enarsa's conduct and the Argentine government's "unlawful and discriminatory" takeover of YPF showed the country had "no intention of complying with, or continuing to be bound by, the agreement", the letter stated.
Meanwhile the Argentine government promised that there won't be a shortage of natural gas this winter.
"In spite of the unilateral decision from Repsol not to comply with the supply of LNG as it has agreed months ago, the supply of natural gas is fully guaranteed based on the new production volume of nationalized YPF and greater volumes from Bolivia", said a spokesperson from YPF.
It must be said that the provision of natural gas from Bolivia will be mostly supplied by Repsol which has a major share in the landlocked country's abundant deposits.