Brazilian economy slows down in March for third consecutive month
Monday, May 21st 2012 - 03:56 UTC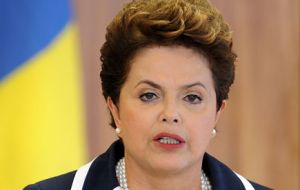 Brazilian government's economic activity index dropped for the third consecutive month in March, confirming a slowdown in the economy in the period.
The index, known as the IBC-Br, showed economic activity declined by 0.35% in March from February, the central bank said last Friday. By comparison, the February index showed a 0.23% decline in economic activity from January.
In the first quarter, the index fell 0.23% compared with a year earlier.
For the 12 months ended March, the IBC-Br showed economic activity rising 1.57% against the previous 12-month period. That also represented a deceleration from February, when the comparable 12-month figure was 2.05%
The weak reading means Brazil's economy has remained stagnant since nearly falling into recession in the second half of 2011. In the fourth quarter, the economy expanded just 0.30%, a figure that could be easily revised downward when fresh GDP data are released on June 1.
In addition to more interest rate cuts from the central bank, President Dilam Rousseff is likely to announce new stimulus measures this week to offer cheaper credit to buy construction materials as well as tax breaks on consumer loans, senior government officials told Folha do Sao Paulo.
Concerned with market sentiment after the weak data, one senior official said the administration forecasts growth of around 0.4 per cent in the first quarter from the fourth quarter, in line with many analysts' expectations.
Brazil's economy is widely seen growing in full-year 2012 slightly above the meager 2.7% posted last year as robust domestic demand only partially offsets a sluggish industrial sector. Brazil's GDP grew a staggering 7.5% in 2010.