Royal Navy says HMS Talent reports are "mere media speculations"
Tuesday, May 22nd 2012 - 18:29 UTC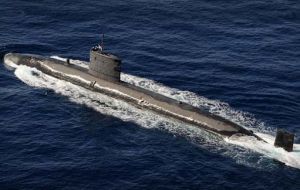 Royal Navy Commander Mark Southorn said on Tuesday that news informing of the sending of the HMS Talent nuke submarine to the Falkland Islands are "mere media speculations".
Without denying or confirming the deployment, the British official just emphasized that "though the ship is nuclear-powered, it's not a nuclear-armed submarine", according to a report from Argentine official news agency Télam.
"We can't make any comments on regards our military operations, though we can confirm that news about the sending of a submarine are media speculations as no journalist has discussed the topic with any member of the Defence Ministry", Commander Southorn is quoted.
Meanwhile from Montevideo Deputy-Defence Minister Jorge Menéndez announced that Uruguay "will not welcome ships of that nature" following Murdoch's group British media reports that HMS Talent is said to arrive to the Falklands June 14, the 30th anniversary of the Argentine forces unconditional surrender to a British Task Force in 1982.
The official said Uruguay will "report internationally the possible presence or transit of the ship off its coast", according to the Uruguayan pro-government newspaper La República.
"If this submarine passes through our waters and we detect it, we have no other choice than report it", Menéndez told the newspaper.
Likewise, Menéndez emphasized that "military ships are not and will not be welcome in our waters and/or our ports", but the official exempted those military vessels engaged in "humanitarian or scientific tasks."
Last year, the Uruguayan government considered the Falklands/Malvinas Islands as "a British colonial possession in Latin America", and reaffirmed its position supporting Argentine sovereignty claims but distancing itself from any attempts to hinder the human rights of the Islanders.