Brazilian Real falls to a new three-year low, "positive" for exporters says minister
Wednesday, May 23rd 2012 - 06:59 UTC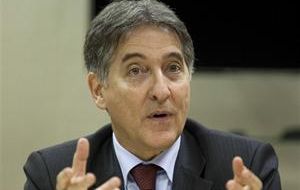 The Brazilian Real fell to a new three-year low after briefly erasing its decline as the central bank sold currency swap contracts for the second time in three trading sessions, holding two auctions on Tuesday.
New rules announced Monday will free as much as 18 billion Reais (8.8 billion dollars) for auto financing to revive Latin America's biggest economy.
The Real weakened almost 1.67% on Tuesday closing at 2.08 to the US dollar, its lowest since May 2009 when it reached 2.10 Real.
The exchange rate is "worrying" for importers and positive for companies that export, Brazil's Trade Minister Fernando Pimentel told reporters in Brasilia. "It is beginning to be attractive again to export cars," he said.
Brazil's currency dropped last week past 2 per dollar for the first time since 2009 after the central bank purchased dollars to keep it weak and cut borrowing costs. This week's Real decline is attributed to growing concern Greece was making preparations to exit the Euro.
"We are facing an escalation of the international crisis" Finance Minister Guido Mantega told reporters in Brasilia on Monday. "This demands that we redouble our efforts to maintain economic growth at a reasonable rate".
The central bank has reduced Brazil's target lending rate by 3.5 percentage points since Aug. 31 to 9%. Policy makers may reduce the benchmark by a further 50 basis points to 8.5% at next week's monetary policy meeting trading in interest-rate futures shows.
The bank bought 7.2 billion dollars in the spot market last month, the most since 8.4 billion dollars purchased in March 2011, to help exporters by keeping the Real weak.