Buenos Aires police de-activate bomb attack on former Colombian president Uribe
Wednesday, May 23rd 2012 - 03:59 UTC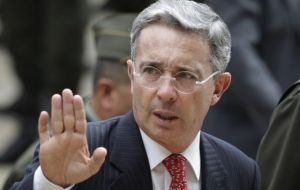 Former Colombian president Alvaro Uribe will carry on with his activities in Argentina as planned, despite the fact a bomb was found in a Buenos Aires theatre where he is expected to give a conference, according to sources close to the event organization
Uribe is scheduled to address the Argentine business community on Wednesday on the transformation of Colombia in the framework of a symposium organized by a company which specializes in forums and seminars for executives.
The bomb of limited impact and to be activated by a cellular phone according to Buenos Aires police was found in the second floor of the Grand Rex Theatre where a cocktail is planned following the conference.
Carlos Leiva secretary of Federal magistrate Norberto Oyarbide who has the case said that experts de-activated the artefact and there was no risk of explosion. Leiva was reluctant to give more details and simply said that the police investigation was on-going.
A few hours after the "suspicious package" was found the WOM Latam Leadership Symposium organizers met with Uribe who decided to continue with the original agenda of the event.
"He was notified about the situation and decided he will continue with the agenda as it was planned," sources assured.
The organization also highlighted that security has been tightened at the Gran Rex as a preventive measure and also to avoid possible clashes with the anti-Uribe march that was programmed at the nearby Obelisk.
Federal Judge Oyarbide later informed that the device "was found by a maintenance man" and that it was "set up to explode at the time when Uribe was going to be attending this cocktail, scheduled to take place tomorrow (Wednesday) at 4:30 pm."
According to the judge, the bomb was also expected to create a power outage "which would create panic, confusion and even deaths" since the doors to the place could have been locked.
Oyarbide also suggested that the attack not only have targeted Uribe, but also looked to "create international repercussions" and hinder Argentina's international image.
"We have managed to avoid some great damage to Argentina" stated Oyarbide who added he had requested the guest list for Wednesday's cocktail from the Colombian embassy.
Uribe during his eight years as president was decisive in retaking the initiative from the FARC Marx inspired-drug cartels financed guerrillas. Several spectacular blows to FARC enabled Colombia to recover lost territory to FARC and establish the foundations and sufficient security for the current economic boost of the country. Obviously he also sowed many enemies that have pledged to eliminate him.