Chile not interested in joining G20 at the expense of Argentina's membership
Wednesday, May 23rd 2012 - 01:53 UTC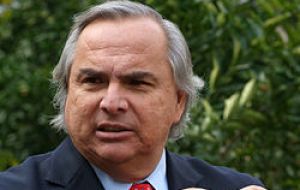 Chile is not interested in joining the G-20 of leading advanced and emerging economies if that means sacking Argentina, said President Sebastián Piñera administration's spokesperson, Andres Chadwick.
"Obviously any country would like to join the G20, but we don't want the option if it means replacing Argentina simply because the country is currently going through a difficult or vulnerable economic moment", affirmed Chadwick.
A few days ago the influential The Washington Post suggested in an editorial the replacement of Argentina by Chile because of the confiscation of YPF from the Spanish company Repsol, ordered by President Cristina Fernandez and ratified by the Argentine congress.
"That is for others to determine and Chile obviously is ready to participate but it is not a proactive Chilean policy since we privilege our relations with Argentina above all other situations", insisted the secretary general of the Chilean Executive.
"We are extremely careful in the relations with our neighbours, and it is not part of our international policy to join G20 at the expense of the elimination of Argentina".
"Chile has very important international positions. It currently presides over the Pacific Alliance and the Community of Latinamerican and Caribbean states, CELAC", underlined Chadwick.
"We belong to an area of the world that in the past experienced many conflicts", added the Chilean official.
"Currently with Peru we are at the International Court of Justice in The Hague because of the interpretation of international treaties and maritime limits and we have a problem with Bolivia, which is the ongoing demand for an outlet to the sea through Chilean territory", said Chadwick.
And with Argentina "multiple border problems we had, have been mostly solved and we only have a few delimitations in Campos de Hielo Sur pending", added the man closest to President Piñera.