Spain, on the edge of a financial cliff, cancels all development aid to Latin America
Wednesday, May 23rd 2012 - 03:56 UTC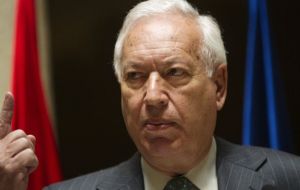 The Spanish government announced this week it was cancelling all development aid to Latin American countries as a direct consequence of the financial strains the EU member is suffering, which is the worst in decades with record unemployment of 24%.
However the Spanish Foreign Affairs ministry was quick to ensure that the decision is not linked to the recent seizure by the Argentine government of a majority stake in YPF from Repsol.
Among the countries that will be affected in order of strategic importance for Madrid are Brazil, Mexico, Argentina, Chile and Colombia. Nevertheless the sums had been diminishing for the last few years because of the per capita income increase in most Latam countries. Argentina for example in 2011 only received 4 million Euros.
"Unfortunately there will be no funds available for development in 2012", said a Spanish Foreign Affairs ministry source. "Budget cuts have been across the line and that includes overseas aid".
Foreign minister Jose Manuel García Margallo during his presentation before the Spanish congress Cooperation committee last March anticipated that the cuts were coming, even "when they are an extremely painful option" for the government.
According to Spanish media sources in the last four years Spain's development aid to Argentina totalled 100 million Euros.
Excluded from the list are the poorest countries in Latam and the Caribbean, which will receive emergency aid. The overall sum will be concentrated in north Africa countries, particularly those in transition to democracy plus Western sub-Sahara and the African horn.
Spain has earmarked 800 million Euros for development aid in 2012 which is 1.3 billion less than in 2011.