The US dollar stronger than the Euro in Argentina's parallel market
Wednesday, May 23rd 2012 - 06:56 UTC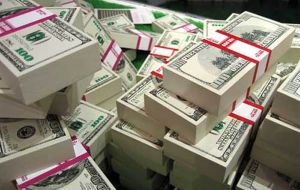 For the second day running the Argentine Peso weakened against the US dollar climbing half a cent from Monday and closing at 4.43 and 4.48 on the local foreign exchange market.
This happened as Argentina's tax revenue office, AFIP continued with strict controls and restrictions on the purchase of foreign currency which further widened the gap between the official and parallel or black market rate.
In effect in the black market the US currency was up eight cents and closed trading on Tuesday at 5.94 Pesos, surpassing the Euro which closed at 5.80 Pesos.
Argentine Central bank sources quoted by the Buenos Aires financial media said that the surge can be explained by a "general hysteria feeling that has trapped the market with an over reaction from agents".
Furthermore the volumes traded in the parallel or black market are very low and are "highly volatile to the minimum changes".
"The formal market is totally under control and in line with government policy, but the parallel has become a problem since it sparks psychological pressure", added Buenos Aires market sources.
Meanwhile in the foreign exchange wholesale market the dollar climbed to 4.475 Pesos from 4.4655 Pesos on Monday.
Brokerage houses reported that the Central bank ended Tuesday as a net buyer of 15 million dollars with an overall turnover of 374 million dollars.
The central bank regularly intervenes in the foreign-exchange market to buy dollars to build its international reserves and keep the Peso on a slow path of depreciation against the greenback to help exporters.
So far in May the Central bank has purchased over 800 million dollars while in the first four and a half months of 2012, they add up to 6.15 billion dollars.