Three former presidents admit Mercosur has failed and has Uruguay 'trapped'
Friday, May 25th 2012 - 07:01 UTC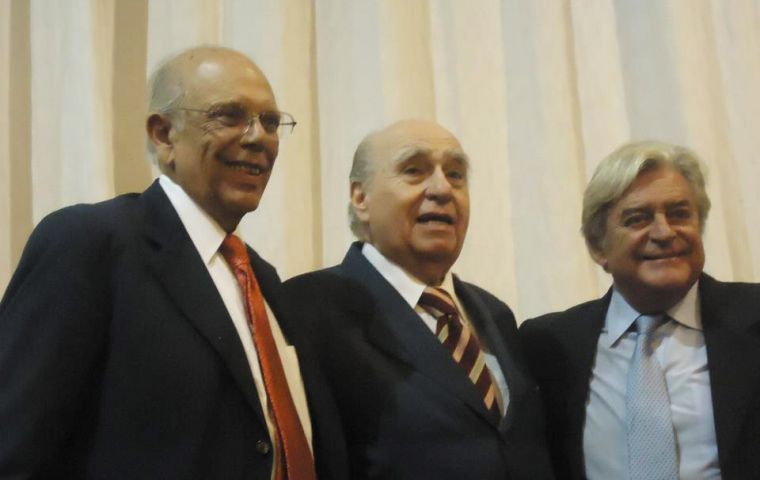 Three former Uruguayan presidents recommended the current administration that without abandoning Mercosur, it should look at major trade blocks associations but at the same time a strong self criticism is needed because maybe the problem is not in Mercosur but in Uruguay.

The absence of conditions in the Uruguayan economy to compete for markets and investments, the wrong energy and foreign policies and the infinite tolerance with the bilateral mechanism imposed by Argentina and Brazil in the region are the main causes by which Mercosur has seen its rules and institutions erode and most probably leading it to a major failure.

The three leaders are Julio Maria Sanguinetti (1985/1990 and 1995/2000); Luis Alberto Lacalle (1990/1995) and Jorge Batlle (2000/2005). The only living president missing at the conference was Tabare Vasquez (2000/2005), who belongs to the current ruling coalition.

"We need powerful friends and partners but distant" said Lacalle who suggested Uruguay should reach trade agreements similar to the one with Mexico, with China, United States, Canada, South Korea and other countries more stable for Uruguayan production.

"Mercosur was an ideal, but 21 years later we have to face reality: it has failed" said Batlle who recalled that in the midst of one of the worst European crisis in memory, country members have agreed to keep markets and economies "as open as possible".

Batlle also invited to leave aside Mercosur and think if the problem is not Uruguay since "we are not competitive at world level". He added that Uruguay has not taken advantage of the extraordinary conditions since 2004: "we have high inflation; excessive fiscal pressure; hyper regulation in all markets; public utilities rates out of touch with the world; we're cut off from communications technology; a dreadful education system; weakened infrastructure and huge domestic costs".

So even if Mercosur was working wonderfully, "we would have deep serious problems of competitiveness, and I anticipate serious energy shortages if we don't address the issue now" insisted Batlle.

Lacalle bitterly criticized the foreign policy of "following" on the tracks of Argentina which "does not benefit us in investments terms or that we are a safe, sound, reliable and responsible financial hub".

Mercosur was conceived as a trade block but has become totally political and Uruguay is seen begging pan in hand for its rights which are theoretically ensured in the charter. "Simply, Mercosur is not working and, things are not for ever" added Lacalle.

"If Mercosur is empty of that for which we created it and full of political commitments for which it was not planned, it's anything but Mercosur".

Finally Lacalle warned that if Uruguay follows on Argentina's path of elevating the common external tariff, "it means we are jailed in Mercosur for life". Hopefully President Jose Mujica and Foreign minister Luis Almagro will react and say Uruguay does not support the initiative.

Former president Sanguinetti said he did not recommend abandoning Mercosur although he admitted a serious erosion of rules, codes and institutions which means there has been a slackening of the project "and gives us the liberty to look for free markets".

Sanguinetti recalled that the government administration of former president Tabare Vazquez let pass by "a gigantic historic opportunity" when the US proposed to Uruguay a free trade agreement.

"Unfortunately the political party to which Vazquez belongs ignores that the Berlin Wall has long fallen and said no, leaving us locked in this situation and submitted to the pressure we are suffering", added Sanguinetti.

One of the questions from the auditorium referred to the optical fibre system which the Mujica administration wants to be exclusively managed by Uruguay's telephone company, Antel.

"We'll be back to the time of messenger pigeons if that happens" said Battle who insisted our path is to follow the US, China, Chile, India, "those are the markets".