Brazil "better prepared" for the current global crisis which will be "softer"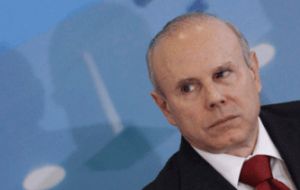 Finance minister Guido Mantega said that Brazil has double the reserves when the 2008 global recession and is prepared to confront a deepening of the European crisis but admitted that the economy would expand below 3.5% which is less than was targeted at the beginning of the year.
"If there is a deepening of the crisis we have the instruments to neutralize the situation: we have double the reserves we had during the 2008 crisis, but this crisis is going to be softer, and we also have banks with a higher level of reserves, which is credit that the Central bank can liberate if necessary" said Mantega.
Asked if the President Dilma Rousseff administration has plans to modify the current fiscal austerity policy which has a budget target of 3% primary surplus, the minister accepted that "the hypothesis is valid, if global conditions worsen".
"If we had a hecatomb such as a disorganized exit of Greece from the Euro which could trigger serious problems for the periphery countries with fragile economies, and "then yes, obviously we would appeal to all the instruments needed to avoid the Brazilian economy from slipping, including lowering the surplus target".
But nevertheless "the Brazilian economy is going to expand in 2012", said Mantega in an interview with the web site of Folha de Sao Paulo.
But Mantega also admitted that the world crisis has had an impact on the Brazilian economy: "we are going through a moment of uncertainty mainly because of the international situation which tends to worsen. It is plausible to imagine a GDP growth of 3.5% to 4%".