Confirmed: Cristina Fernandez will attend C24 meeting on Falklands next June 14
Thursday, May 31st 2012 - 06:01 UTC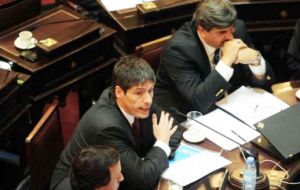 President Cristina Fernandez will be attending next June 14 the UN Decolonization meeting in New York where she is expected to make a strong case for Argentina's claim over the disputed Falklands/Malvinas Islands.
Cabinet Chief Juan Manuel Abal Medina confirmed to the Senate that the Argentine president will attend the event where "she expects a strong definition in terms of advancing in the path of dialogue and reaching an agreement to recover our Malvinas Islands".
The Argentine leader had already anticipated the trip to the UN C24 annual meeting last March during her 'state of the nation' speech to Congress.
"We can't allow colonial enclaves to continue existing in the XX century, currently there are 16 of them and that is why next June 14, I will personally attend the UN Decolonization Committee" she said at the time.
President Cristina Fernandez demands that the UK comply with UN Resolution 2065 which calls on both sides, Buenos Aires and London to open negotiations to resolve the sovereignty issue of the Falklands/Malvinas.
This year is very special since it is the 30th anniversary of the Falklands conflict which started with the invasion of Argentine forces to the Islands on 2 April 1982, until they were expelled 74 days later by a British Task Force sent by then PM Margaret Thatcher to recover them.
The day the Argentine forces surrendered unconditionally to the Task Force, which became Liberation Day and the most important day of the Islanders calendar is precisely June 14, when this year's UN Decolonization Committee will be hearing presentations from Argentina and the Falkland Islands.