Insulza hopeful OAS assembly will reach a consensus on the Malvinas issue
Thursday, May 31st 2012 - 06:11 UTC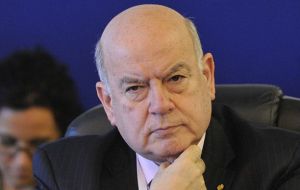 OAS Secretary General Jose Miguel Insulza said he expects a consensus is reached on the Falklands/Malvinas issue next week when the Organization of American States general assembly, following the lack of agreement at the last Summit of the Americas in Colombia.
At a press conference on Wednesday in Washington Insulza said he trusted the Foreign ministers summit next June 3/5 in Cochabmaba, Bolivia can end with the consensus that could not be reached at the VI presidential summit last April.
"In Cartagena the main difference among countries was that the issue should be addressed at the Summit when it had already been discussed at the Assembly, but I can't prejudge what the Foreign ministers are going to decide", said Insulza.
However, he denied that the sovereignty dispute over the Falklands/Malvinas claimed by Argentina will have a greater impact than in previous OAS annual assemblies.
"The resolution is the same as approved in other general assemblies" assured Insulza who added that the agenda is "the same" as last year in El Salvador, with the difference of the debate on the reform of the Inter American Human Rights Committee.
The decision on the IAHRC reaches the assembly still open and "the assembly must take position regarding the recommendations to strengthen the committee", which some members such as Ecuador, Venezuela and Bolivia, want to mandatory impose while others prefer "an invitation to adopt" the reforms.
Insulza recalled that the report through which OAS members approved recommendations last January "is the minimum common denominator for all" and therefore he trusts that decisions will be taken from that point and not try to expand them or reduce them.
He also said he was confident that the "language issues" which so far have impeded a consensus resolution can be overcome and is hopeful that the reform process with the subsequent evaluation by the IAHRC is closed in a year's time.
"It will last the time that it needs to last, but one year is a reasonable timetable".
Contrary to the Falklands/Malvinas issue the ministers won't be able to include resolutions on another highly controversial issue: Cuba's aspirations to attend the regional meeting since the issue does not figure in the initial agenda of the General Assembly.