Discreet Brazilian congress: with no claimants panties are finally incinerated
Friday, June 1st 2012 - 06:37 UTC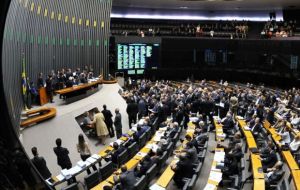 A pair of panties that fell out of a Brazilian legislator's pocket onto the floor of Congress two weeks ago has been burned after no one claimed them. Fifteen days ago, a group of federal deputies came running into Congress to vote on a bill related to cyber crimes, reported Brazilian newspaper O Globo.
One of those deputies, who he is remains a mystery, put his hands in his pockets near the main entrance of the plenary and, without realizing, let the incriminating evidence fall to the floor: a frilly, red and white pair of panties, said to lean more toward the style of long johns.
When one of the security guards saw the panties, which were left in plain view of all politicians and journalists present, he tried to discretely remove them from everyone's line of vision, giving them a kick toward a garbage can, reported Diário de Pernambuco.
The security guard advised Workers Party president Marco Maia's assistant of what had mysteriously appeared on the floor, and he scooped up the panties and put them in his pocket.
After being examined by security guards, assistants and journalists alike, two conclusions were drawn about the women's underwear, according to newspaper O Povo. The first was that they had been used before the unfortunate discovery, and the second was that they certainly never belonged to a model.
Deputies told O Globo they knew of the incident, but thought of it as a joke. "It must have been a trick they played on somebody," said Maia.
"I was in the coffee shop and two colleagues called me in to show me the panties," said Francisco Everardo Oliveira Silva, a professional clown known as "Tiririca" who also has a seat in Congress.
"We have a suspicion as to who the owner is, but we're not going to turn him in" said Tiririca.