China lowers key rates and gives banks more flexibility to help boost growth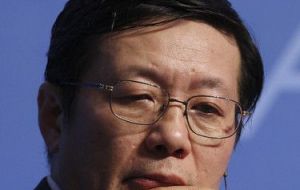 China has cut its key interest rates for the first time since 2008, in an attempt to boost its slowing growth. The benchmark one-year loan rate was cut by a quarter of one percent to 6.31% while deposit rates were cut from 3.5% to 3.25%.
The People's Bank of China also gave banks flexibility to offer higher rates to savers and lower rates to borrowers. In addition, China has delayed the implementation of tougher bank capital rules amid concerns that they may hurt lending.
The rules, delayed until January next year, will increase the minimum cushion of capital a bank must keep absorbing losses on their loans.
There were fears that such a move may curb lending at a time when Beijing has been trying to boost growth amid a slowdown in its economy. China had planned to introduce the rules at the start of this year.
"The Chinese are concerned about the slowdown around the world," said Sir Howard Davies, an economist who has held senior roles at the Bank of England and the Financial Services Authority.
"The US economy, although it has picked up, the growth rate has flattened off. They look at the Euro zone and they are terrified about what is going on there... India has its lowest growth rate for more than five years, so everywhere they look it doesn't look very positive," Sir Howard, a regular visitor to China, told BBC News.
"So I think the Chinese are now feeling they need a bit of insurance to try to stimulate domestic demand, so that they don't slip back below the 8% [growth] figure that they attach so much importance to."
China's moves are the latest in a series of attempts designed to stimulate the world's second biggest economy. Its economy grew at an annual rate of 8.1% in the first three months of the year, the slowest pace in almost three years, but still extraordinarily fast compared with most countries.
Earlier this year, the IMF warned that the Euro zone crisis could almost halve China's growth in 2012.
Concerns about slowing growth in key export markets have also prompted China to reduce the amount of money banks need to hold in reserve three times in the past few months to give banks more cash to lend to consumers.
On Wednesday, it introduced fresh measures to boost lending to small and medium-sized companies, which are among the biggest contributors to growth.
The cabinet said it would lower the risk weighting assigned to loans given to such companies when calculating the cushion of capital a bank must keep. It said the change was designed to, "expand the small micro-enterprises and personal loans to more effectively serve the real economy"
China's sovereign wealth fund, China Investment Corporation (CIC), has cut its European stock and bond investments on fears of a Euro zone break-up. In an interview with the Wall Street Journal, CIC chairman Lou Jiwei said: "There is a risk that the Euro zone may fall apart, and that risk is rising".
Mr Lou also scotched speculation that the state-owned CIC might buy Euro bonds if and when they are launched. "The risk is too big, and the return too low," he said.
But CIC does not plan to abandon Europe altogether, focusing on investments in private equity and infrastructure projects instead, he added.
CIC has about 410bn dollars of assets under management. It was created by the Chinese government in 2007 and tasked with finding better returns for China's currency reserves.
China holds 3.3 trillion dollars of foreign exchange reserves, the biggest such fund in the world.