Debate confirms front runner Peña Nieto as most probable next Mexican president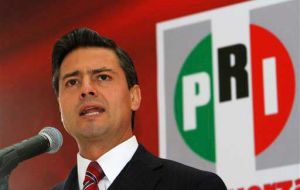 Mexico's presidential front-runner Enrique Peña Nieto emerged largely unscathed in a televised debate on Sunday night after his adversaries failed to take advantage of an increase in opposition to his bid.
During a two-hour encounter largely devoid of drama, Peña Nieto was barely troubled by his populist rival Andres Manuel Lopez Obrador, whose recent surge in the polls has added an element of uncertainty to the July 1 vote.
In the past month, Peña Nieto's opposition Institutional Revolutionary Party (PRI) has been hit by a wave of student-led opposition playing on memories of the PRI's reputation for corruption and authoritarian rule during its 71-year tenure.
Lopez Obrador has been the main beneficiary of the anti-PRI surge, but he made little effort to rally that support on Sunday night, preferring instead to repeat election mantras and list the members of his planned cabinet.
"Lopez Obrador should have said 'thank you' to the student protests or 'We don't want the PRI's authoritarianism,' but he lacked the political intelligence and wasted a golden opportunity," said Javier Oliva, a political scientist at the National Autonomous University of Mexico (UNAM). "I have no doubt now that Peña Nieto is going to be the next president."
The jump in support for 2006 runner-up Lopez Obrador has pushed Josefina Vazquez Mota of the ruling National Action Party (PAN) back into third place in most polls.
She offered most of the attacks during the debate, trying to brand her adversaries as two sides of the same coin, at turns describing them as corrupt, cowardly and untrustworthy. But many analysts believe she will struggle to finish better than third.
Most polls show Peña Nieto with a double-digit lead, with a survey by polling firm BGC published on Thursday giving him 42 % support, an advantage of 14 points over both his rivals.
Just a few months ago the 58-year-old Lopez Obrador was more than 20 points adrift in most polls. But on May 31, one survey put him just four points behind the PRI candidate.
Instead of celebrating his rise in the polls as he has on the campaign trail, Lopez Obrador sat back and came under fire in the debate from Vazquez Mota who reminded voters that he had once belonged to the PRI before he quit in the late 1980s.
Meanwhile while the debate was on tens of thousands of protestors marched against the PRI in Mexico City, holding up banners warning that a Peña Nieto win would bring back the worst elements of his party and benefit entrenched interests like dominant broadcaster Televisa.
Some also marked the 41st anniversary of a notorious student massacre in the capital, which alongside the bloody suppression of demonstrations in the city's Tlatelolco district in 1968 are among the most infamous acts of repression tied to the PRI.
Since the first debate on May 6, opposition to Peña Nieto and the PRI has become much more visible, with Internet-savvy student activists organizing protests in cities around Mexico.
Trouble began brewing online for the 45-year-old Peña Nieto after May 11, when students at Mexico City's private Ibero-American University heckled and booed him for his record as governor of the State of Mexico between 2005 and 2011.
Afterwards some Peña Nieto supporters questioned whether the Ibero demonstrators really had been students, which only helped to galvanize his youth critics and spur them into action.
By and large, Peña Nieto was able to remain above the fray, repeatedly stressing the need for greater growth and more jobs.