Looking forward and promoting Falklands' younger generation
Tuesday, June 12th 2012 - 21:05 UTC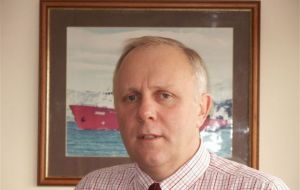 As the years pass, Veterans and Islanders alike who were caught up in the Falklands War, are getting older; many, regrettably are no longer with us. Age takes its toll, and sadly a number of potential guests declined due to failing health, reads the message from Lewis Clifton OBE, Chairman of the 2012 Committee.
This 30th Anniversary of Liberation is likely to be the last significant anniversary for some time; in 2007 the Ministry of Defence confirmed that it would only commit to supporting the 50th Anniversary in 2032, in accordance with UK policy.
The Falklands receive increasing numbers of returning Veterans annually; the work of the South Atlantic Medal Association (both the FI and UK Trusts) and the Falklands Veterans' Foundation with appreciative utilisation of Liberty Lodge is supported by the Ministry of Defence providing affordable airfares for SAMA medal holders.
During 2012 further generous reductions in airfare costs allow Veterans, close family and next‐of‐kin to visit. In November the Islands will host another Veterans' Pilgrimage, with more than 100 Veterans visiting for the first time since 1982.
While the Falkland Islands Government financially assists in underwriting Liberation Anniversary events, and supports the Veterans' Pilgrimage, the execution of these events would not be possible without generous support and assistance from the Falklands community who give freely of their time, and open their hospitality doors in the best of Falkland Islands tradition.
A number of social and community events are planned for our guests and, weather permitting, they should see a wide cross‐section of the community both in Camp and Stanley. Official invitations have been issued for formal functions, but regrettably it is not possible to invite everyone to a function, save of course for the day of events on 14th June, which commences with the Thanksgiving Service in Christ Church Cathedral, the Act of Remembrance, the Civic Reception and the afternoon and evening of community events, co‐ordinated by Sealed PR, in the FIDF Halls.
The Commander British Forces has kindly arranged for the Salamanca Band of the Rifles to be with us; the Band will also support the Liberation Songs of Praise on Sunday 17th June in Christ Church Cathedral.
The focus of the 30th Anniversary of Liberation Year has been to look forward while acknowledging and promoting the younger generation, who have proudly taken up the mantle of leadership and commitment to the economic and political development of our Islands. The foundation stones of our development are firmly constructed upon the legacy of human sacrifice to restore our Freedom in 1982. A twenty‐four page colour booklet, Our Islands, Our Home, succinctly portrays how far our Islands have advanced in 30 years. We all have much to be proud of and grateful for.
We owe a huge debt of gratitude to serving HM Armed Forces personnel for their steadfast protection of our homeland, and to successive British Governments who, since 1982, resolutely support and promote our right to determine our own political future.