Unasur new Secretary General promises to work for energy integration and reduce poverty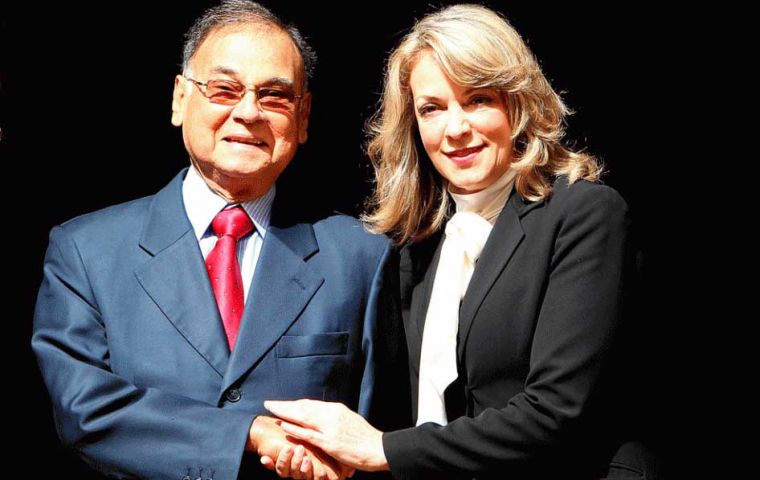 Venezuela has taken the Unasur secretary general post from Colombia during a ceremony last Monday held in Bogotá with the attendance of Colombian president Juan Manuel Santos and his Paraguayan counterpart Fernando Lugo.
The new Secretary General of the Union of South American Nations is former Venezuelan Foreign Affairs minister Ali Rodriguez (2004/2006) who will be holding the post for the next twelve months. He replaces Maria Emma Mejia, a former Colombian Foreign Minister (1996/1998) who took office in May 2011.
"Today we have a stronger and more consolidated grouping", said president Santos who admitted that when Unasur was first created he was sceptical to the point of asking whether the new organization was going to create more problems than benefits.
"But when you are wrong, you must admit it and I acknowledge that my perception was wrong", said Santos who also praised the incoming secretary.
"He is a former guerrilla, but then he was instrumental in negotiations to hand over the weapons and return to legality. A few years later he was defending his ides not with bombs and guns but in democracy", underlined Santos.
"Unasur supports democracy, not violence or terrorism, so that's why it's so significant that today we are here handing the Unasur secretariat to Alí Rodriguez" said the Colombian leader.
The new Unasur secretary general pledged to work for energy integration and the preservation of the region's natural resources, and said "bringing down poverty indexes in Latin America must be the objective, which means having the human being as the focus of all decisions".
Mejia and Rodríguez were elected in 2011 to occupy successively, a year each, the Secretary General of Unasur following on the death (October 2010) of the first holder of the post, former Argentine president Nestor Kirchner.
Previous to the taking office ceremony at the Colombian Government House also known as Palacio Nariño, the twelve Foreign ministers of Unasur held an extraordinary council meeting.
President Lugo attended the ceremony since Paraguay currently holds the rotating presidency of the group which is is made up of Argentina, Bolivia, Brazil, Colombia, Chile, Ecuador, Guyana, Paraguay, Peru, Surinam, Uruguay and Venezuela.