UK minister says Argentina not acting as a 'responsible country' in Falklands' issue
Wednesday, June 13th 2012 - 23:55 UTC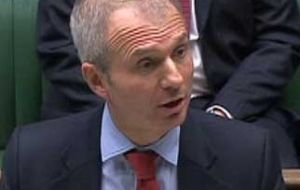 British Foreign Minister David Lidington condemned on Wednesday the actions of Argentina against the Falkland Islands claiming they were not those of a 'responsible' country.
"(Argentina's) behaviour remains aggressive toward the Islanders. The actions displayed by the Argentine government are not those of a responsible power on the world stage, with threats and military rhetoric" said the minister in a statement to the House of Commons.
Likewise the official celebrated the decision by the Falklands' government to hold a referendum by saying it would send a 'simple and powerful' message of democracy to Argentina.
"The Falklands have no interest in becoming a province of Argentina," he said, adding that "regrettably not everyone has been able to accept this reality".
Lidington said Argentina had become increasingly hostile to the Islanders, preventing free trade, stopping cruise ships bearing British flags docking in Argentine ports and preventing flights using its air space.
But the Foreign Office minister said that "this government will offer unequivocal support for the Islanders, protecting their rights and wishes just as we did 30 years ago," he said.
Lidington said the referendum would be held in the first half of 2013 and be overseen by independent observers and "I hope Argentina will take note of the islanders soberly expressed democratic view".