Cristina Fernandez asked C24 for June 14 to deliver her Malvinas speech
Thursday, June 14th 2012 - 17:34 UTC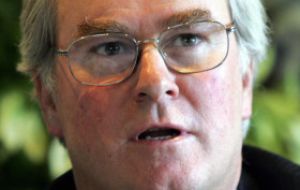 Reacting to the massive media campaign displayed by Argentina, UK UN Ambassador Mark Lyall Grant revealed that it was President Cristina Fernandez who requested US the Decolonization Committee to schedule the annual discussion of the Falklands/Malvinas status on the anniversary of Britain's victory 14 June 1982.
The Argentine president request of the 30th anniversary that ended the 74-day conflict is a move aimed at highlighting the ongoing dispute, but also to internationalize the dispute and "make a song and dance at the UN".
Argentina has been intensifying its campaign to pressure Britain into sovereignty talks over the Falklands/Malvinas status for the last year, a theme it pushes in every international forum.
Ambassador Mark Lyall Grant also recalled that a decade ago on the 20th anniversary of the conflict there were a lot of joint commemorative events honoring the 649 Argentines, 255 British soldiers, and three islanders who died in the war and 'it was done in a very statesman-like way'.
"It's very sad that this year the Argentines for obviously purely domestic political reasons have hyped up the rhetoric in a massive way and are using every opportunity to try to internationalize the issue and get support from the regional organizations and make a song and dance at the UN".
Argentina invaded the Falklands and South Georgia in 1982 and occupied the Islands during 74 days later when they were finally ousted by a Task Force sent by then PM Margaret Thatcher.
The outcome of the Argentine operation was over 900 people dead, massive destruction, rattled other South American countries with border disputes with Argentina and definitively convinced the Falklands population Argentines can't be trusted.
In effect since the early seventies, there were increasing communications and supply links between the Falklands and Comodoro Rivadavia, Argentine Patagonia, considered a long process of confidence building that was completely annihilated by the April 1982 invasion and military occupation of the Falklands.