Falklands' conflict "very much alive in the collective memory"
Thursday, June 14th 2012 - 19:06 UTC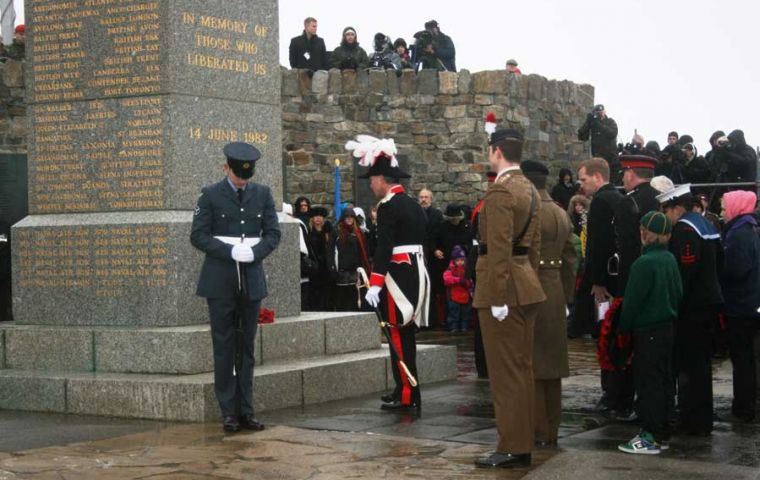 UK Foreign Office Minister Jeremy Browne has spoken of his admiration for the Falkland Islands people on the thirtieth anniversary of the conclusion of the Falklands conflict.
Representing the UK Government at commemoration services in the capital, Stanley, Mr Browne has also met members of the Falkland Islands Assembly and heard how they are building their economy and developing their communities to improve local facilities.
Some of those living on the Islands can trace their family back nine generations, and all believe the area's improving fortunes are testament to the self-determination in which they passionately believe.
Mr Browne's visit also marks a time to reflect on the sacrifice of those who gave their lives for freedom. Speaking ahead of the Liberation Day Service at Christ Church Cathedral, he said:
"I am honoured to be here to remember the members of the UK Armed Forces who fought, and the many who died, in the Falklands conflict. Their sacrifice will not be forgotten. It is the reason that the people of the Falkland Islands are able to choose their own future today.
"The people living here now either remember the conflict themselves or know somebody who does. It is very much alive in the collective memory. We should not forget the reasons for our presence here or the right of the Falkland Islanders to decide their own destiny. This is a fundamental right. Thirty years on, the principle of self-determination for the Falkland Islands people remains as important as it ever has."
After the service the Minister attended the Liberation Day Parade, involving both members of the British Armed Forces and local residents. The parade included a 'freedom march', stressing the rights of all peoples to liberty and justice. This right was emphasised on Tuesday when the Falkland Islands Government announced a referendum on their political future.