Falklands' flag flying above Downing Street and the Foreign Office
Thursday, June 14th 2012 - 17:04 UTC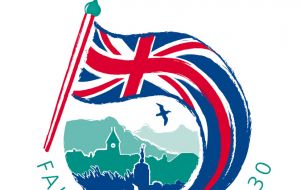 Britain sent a defiant message to Argentina on the 30th anniversary of the end of the Falklands War by flying the Islands' flag above Downing Street.
The flag was also being flown over the Foreign Office, the offices of Deputy Prime Minister Nick Clegg at 70 Whitehall and the Department for Communities and Local Government.
Number 10 said the gesture was a tribute to those who died in the 1982 conflict and a show of solidarity with the Islanders of today.
The Ministry of Defense was flying the flags of the three services, Army, Royal Navy and RAF, that drove out the Argentine invasion and occupation in 1982.
"Thirty years ago today the Union Jack was hoisted above Government House in Stanley as British forces liberated the Falkland Islands," a Downing Street spokeswoman said.
"Today we have hoisted the Falkland Islands flag above Downing Street to mark this important anniversary".
"We are flying the flag in tribute to all those who lost their lives in the conflict and in solidarity with the Falkland Islanders who continue to face aggressive threats from their neighbors across the water."
Eric Pickles, the Communities and Local Government Secretary, said: "Today, we pay tribute to the bravery of our Armed Forces 30 years ago in liberating the Falklands from totalitarian aggression.
"British forces put their lives on the line to defend British sovereign territory, the British way of life and the rights of British people to determine their own future.
"This was a victory both for freedom and the indefatigable spirit of the Islanders".