For peace and reconciliation, we need talks on Las Malvinas
Thursday, June 14th 2012 - 17:13 UTC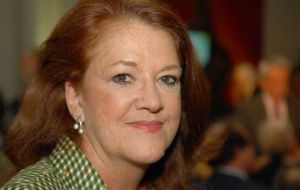 By Alicia Castro - Today marks the 30th anniversary of the end of the war in the South Atlantic, but the sovereignty dispute between Argentina and the UK goes back 179 years. It dates from the time that Great Britain – in much the same way it invaded Buenos Aires in 1806 and 1807 without success – invaded and took the Malvinas by force in 1833. In this lengthy historical process, the events of 1982 are the most regrettable.
The military junta that ruled Argentina at the time abandoned negotiations and started a war as a vile attempt to win people's favour and cling to power. Nowadays, a democratic Argentina repudiates the war and prosecutes those responsible for the crimes committed.
Today, our President attends the meeting of the UN Decolonisation Committee, the body that specifically deals with 16 pending colonial situations, including the "Malvinas/Falkland Question". The international community – through the UN and other multilateral fora – has urged both countries to resume negotiations. So this is what my country asks: that the UK enters into negotiations with us over the future of the islands.
Britain's excuses for not negotiating are unfounded. They cannot hide behind the so-called self-determination of the islanders when no UN resolution has recognised such a right, unlike cases in which the principle is applicable in the context of decolonisation. This is a special case that involves a colonial territory, not a colonised population; its inhabitants are not the original people of the islands. It is a population installed by Britain after 1833. There are only 1,339 inhabitants who were born in the islands. And more than 1,500 soldiers. Is it rational that the "wishes" of this population obstruct the relations and understanding between two countries and two regions?
We are committed to respecting the islanders' interests and way of life. They are British and proud to be so; we respect their Britishness and identity. We are willing to offer safeguards to preserve their way of life. It is in their own interest to improve links with mainland Argentina. Geography and common sense dictate the need for negotiation.
Latin America has expressed as a single voice in support of Argentina's claim. If the UK wishes to build a stronger relation with our region, it has to make a political gesture and listen to the calls for negotiation by the international community.
The trauma left by the conflict on both countries requires a solution by a genuine reconciliation. The only victory that can ever be celebrated will be that on the day when our respective nations sit down at the negotiation table to the benefit of peoples of both parties. War should not be celebrated. The only way of honouring the fallen from both sides is to strive for peace and reconciliation.