Successful royal visit to Gibraltar to celebrate the Queen's Diamond Jubilee
Thursday, June 14th 2012 - 01:14 UTC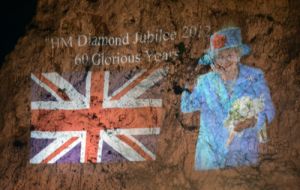 The second day of the royal visit to Gibraltar began at HM Naval Base. The Duke of Wessex was welcomed by a group of children waving flags lining the balcony of The Tower. He inspected some of the units of HM forces Gibraltar, the fire service, bomb disposal, the police and one of their dogs.
There was a fly past and acrobatic display by the Royal Air Force. Finally he boarded HMS Sabre a Scimitar-class fast patrol boat of the Royal Navy Gibraltar Squadron.
Continuing the maritime theme, he visited the Calpe Rowing club and named a new boat 'The Diamond Jubilee' and presented the Jubilee and Wessex prizes. Meantime the Countess of Wessex visited St Martins School, and the seafarers Centre.
In the afternoon they toured the Upper Rock nature reserve and the Moorish Castle housing estate.
In the evening they attended the annual Queens Birthday parade at Casemates carried out by the Gibraltar regiment with representatives of the RAF and Royal Navy. In the evening they attended the annual Queens Birthday Garden party at the Convent and met a number of local VIP's.
Later the Government of Gibraltar projected images of the Queen onto the North face of the Rock.
On the last day the Royal couple met with Gibraltar's various religious leaders at the Convent cloister. The couple then visited the Law Courts and made their way to Laguna Estate where they visited the social club and inspected the new playground.
The Duke and Duchess then made their way to the new airport terminal and after a brief tour and inaugurating the Diamond Jubilee Terrace departed.