Argentina refuses to receive invitation to dialogue from the Falklands' government
Friday, June 15th 2012 - 06:23 UTC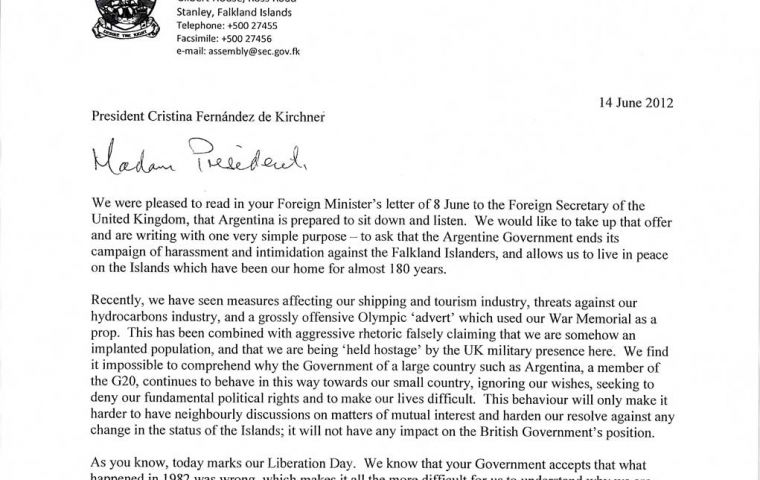 A letter from the Falkland Islands government inviting the Argentine government to enter into a dialogue and which was to be delivered directly to President Cristina Fernandez' delegation during the Decolonization Committee debate was frustrated by the passivity of the C24 chair and by Foreign Minister Hector Timerman.

In the letter addressed to the Argentine president, the Falklands values the chance to make known its feelings directly and invites Cristina Fernandez to a short meeting during her visit to New York or at a later time to be arranged.

In the letter the Falklands refers to Argentina's June 8 address to the Foreign Office saying it was prepared 'to sit down and listen', and taking up that offer "we are writing with one very simple purpose, to ask that the Argentine government ends its campaign of harassment and intimidation against Falkland Islanders, and allows us to live in peace in our Islands, which have been our home for almost 180 years".

The letter dated June 14 is addressed to President Cristina Fernandez de Kirchner and is signed in the name of the Falklands' government by MLA Roger Edwards and MLA Mike Summers, the two delegates that spoke before the C24.

In the letter the Falklands government says it finds it impossible to comprehend how a large country such as Argentina and member of G20, continues to behave in way that ignores the Falklands wishes, seeks to deny Islanders political rights and "to make our lives difficult".

"This behaviour will only make it harder to have neighbourly discussions on matters of mutual interest and harden our resolve against any change in the status of the Islands" and will not have ant impact on the British government's position.

MLA Summers in his address to the C24 wrapped up saying he had a letter from the Government of the Falkland Islands, which invites the Government of the Republic of Argentina "to sit down and listen to the views of the people of the Falkland Islands, and enter into a dialogue, designed to find ways to co-operate in matters of mutual interest, and to preserve the environment of the South West Atlantic to the benefit of future generations of Falkland Islanders and Argentines, as we did before the on-set of sanctions by Argentina against our people. I invite the Argentine delegation to allow me to approach their table in order to hand over the letter".

However when the Thursday session ended and President Cristina Fernandez received a standing ovation and was being congratulated for her speech and surrounded by her ninety delegates, MLA Summers did try to approach and hand the letter but could not get close enough.

The closest he managed was Foreign Minister Hector Timerman who refused to take the document telling the Falklands' legislator to "send it to my embassy".