Falklands taking steps to establish licensed fishery for grenadier
Friday, June 15th 2012 - 11:16 UTC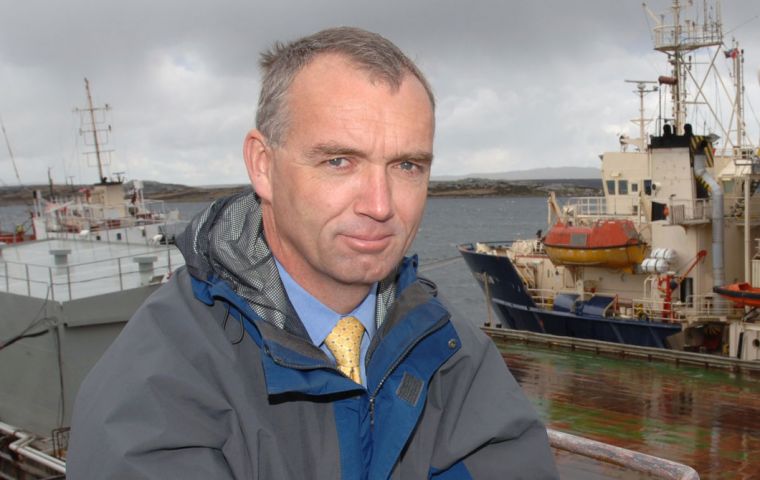 The Falkland Islands fishing industry is taking steps are to establish a licensed fishery for grenadier for an initial period of three years. In 2009 the option of converting the grenadier fishery from exploratory status to an ITQ fishery was considered, but not progressed.
Falklands Director of Fisheries John Barton said it was now considered preferable to run the grenadier fishery as a licensed commercial fishery for three years, prior to entry into the ITQ system.
He said that despite the volume of survey work, some uncertainty remained as to the potential yield of the stock and how it would respond to more prolonged fishing.
As a consequence, the total allowable catch may require some adjustment in the early years.
Mr Barton explained the Loligo fishery started with around 60 vessels and a five month season in the first part of the year. That fishery now operates with 16 vessels and for approximately seven weeks.
"We may know more about grenadier than we did about Loligo at the outset of the fishery, but there is still some uncertainty," he said.
Licensing for three years would allow more data to be collected, and a licence arrangement would provide more flexibility for amending conditions if that proved necessary, Barton told Penguin News.
At the latest Fisheries Committee meeting a range of conservation measures were proposed relating to grenadier, toothfish and deepwater coral among others.
One of the big issues to resolve was that of potential toothfish by catch, a concern echoed by Falkland Islands Fishing Companies Association (FIFCA) representatives on the committee, explained Mr Barton, adding that the next step was to try to resolve some of the issues discussed and submit a paper to Executive Council.
Exploratory fishing and surveys of grenadier have been undertaken using Byron/Nores Marine vessels since 2006. There have been seven surveys conducted to date with the last in May and June 2011. (Penguin News).