Ban Ki-moon good offices on Falklands issue if "both parties are willing to engage"
Monday, June 18th 2012 - 02:24 UTC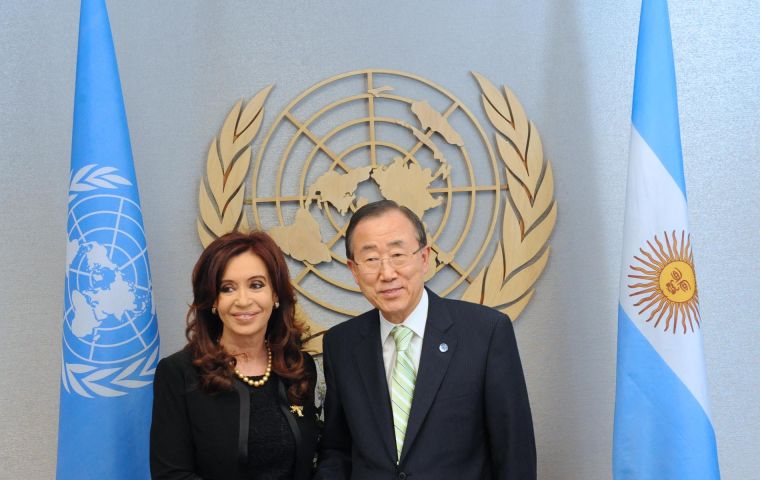 United Nations Secretary General Ban Ki-moon reiterated his good offices to help resolve the Falklands/Malvinas sovereignty dispute between Argentina and the UK, but also pointed out "as long as the parties are willing to engage".
Secretary General Ban Ki-moon last week on the sidelines of the UN Decolonization Committee debate on the Falklands/Malvinas dispute held a meeting with Argentina's President Cristina Fernández, in "which they discussed a range of issues on the global agenda", according to an official release in the UN website.
The issues discussed included the Falkland Islands (Malvinas). The Governments of Argentina and the United Kingdom have been engaged in a dispute concerning the sovereignty of the islands, located in the South Atlantic Ocean.
"The Secretary-General acknowledged the strong regional support for this issue and reiterated that his good offices to resolve this dispute remain available if the parties are willing to engage," according to information provided by Mr. Ban's spokesperson.
The release adds that the UN chief and President Fernández discussed the situation in Haiti, where Argentina has military and police personnel serving as peacekeepers with the UN Stabilization Mission in Haiti MINUSTAH.
"The Secretary-General thanked Argentina for its ongoing support for MINUSTAH," Mr. Ban's spokesperson said, adding that, "He congratulated Argentina on the implementation of gender strategies in defence and peacekeeping operations".
Likewise the two leaders discussed expectations for the upcoming meeting of the Group of 20 (G20), taking place on 18-19 June in Los Cabos, Mexico; and the Secretary-General welcomed Argentina's commitment to a successful outcome at the UN Conference on Sustainable Development (Rio+20), taking place in Rio de Janeiro, Brazil, next week.