Brazil/Argentina agree G20 common position, but will wait to listen to Germany
Tuesday, June 19th 2012 - 06:59 UTC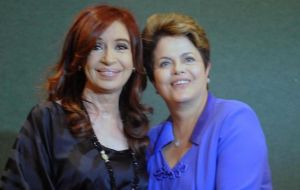 Brazil and Argentina agreed on Monday "to oppose any financial adjustment plan" and sponsor development and growth policies to face the world crisis, in the framework of the two-day G20 summit taking place in Mexico.
The announcement followed a 50 minutes meeting of President Cristina Fernandez with her Brazilian counterpart Dilma Rousseff in Los Cabos, the Mexican resort hosting the G20 summit. Both heads of state met at the Secret Marquis hotel where the Brazilian president is staying, and were joined by their closest aides.
Following the meeting Argentine Foreign Minister Hector Timerman acting as spokesperson said that "Argentina and Brazil share several positions when it comes to policies that favour development and growth in order to face the world economic crisis, while at the same time opposing financial adjustment plans".
The Argentine minister added that both countries also agreed on "waiting and listening to what European countries – Germany in particular – will say during the G20 Summit."
President Cristina Fernández arrived in Mexico on Sunday evening and her agenda was largely limited to attending a dinner hosted by Mexican President Felipe Calderón for G20 leaders and multilateral organizations' representatives. Monday's agenda also scheduled meetings with Russia's Vladimir Putin and France's Francoise Hollande.
The subject of Monday's G20 first session was: "Global economy in a framework for vigorous, sustained and balanced growth" and on Tuesday: "Strengthening the international financial architecture and promoting financial inclusion", and "Trade, job creation and growth".
On Tuesday Argentina is scheduled to present initiatives relative to infrastructure as the engine of world growth in the framework of a discussion panel on "Development: green growth, infrastructure and good security".
The Argentine leader also met with business people, mostly the Argentine delegation that participated at the B-20 meeting and discussed some of the conclusions on the global crisis that will be presented to the G20. Likewise she met with union leaders from Argentina, Mexico, Brazil, and Canada and from the OECD to consider the creation of jobs and decent work conditions.
"The eyes of the world are on us" said Mexican President Felipe Calderón on the opening of the summit. "As leaders of G20, we have a great responsibility" because the world economy is facing serious challenges: "some areas are in recession, others stalled and others slowing down".
"I trust that in this G20 we can define an Action Plan with long term vision, a truly integral plan for the sustained human development we all want" as well as "help to recover growth, create jobs and equal opportunity conditions, fairness and with justice", added the Mexican leader.
He also underlined solidarity with the governments and peoples of Europe, "we have trust in you, we know of your great efforts, and building from those efforts and partly through our deliberations a stronger, more integrated, more united and more responsible Europe will emerge".
The event will be closed Tuesday evening with a press conference from President Calderon and the release of the G20 Declaration followed by a presentation from President Vladimir Putin, since Russia will be hosting the next summit September 2013 in Saint Petersburg.
The Group of 20 was created in 1999 to bring together financial policymaking from traditional economic powers with the fast-growing developing economies such as China and Brazil. Its 20 members house 90% of the world economy, 80% of its trade and two-thirds of its population.
Latin America is represented by Brazil, Mexico and Argentina. The rest of the countries are Germany, Canada, US, France, India, Italy, Japan, UK, Russia, Saudi Arabia, Australia, Korea, India, Indonesia, South Africa, Turkey and the EU.