Drought hit Argentina soy beans and corn crops really hard
Thursday, June 21st 2012 - 05:46 UTC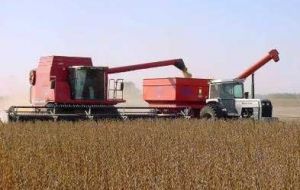 Argentina's biggest grains exchange trimmed its forecast for 2011/12 soy output this week to 40.5 million tons, down from May's estimate of 40.9 million tons as harvesting enters the home stretch.
Farmers in the world's top supplier of soy-oil and soy-meal have brought in 98% of this season's drought-afflicted crop, Rosario grains exchange said in a report.
Poor yields and some key growing areas prompted the downward revision. "There were some negative adjustments in yields in Buenos Aires, Cordoba, Entre Rios and Chaco, and the areas that could not be harvested increased," the report said, adding that average yields were 2.26 tons per hectare.
Argentina is also the world's No 2 corn supplier after the United States and the dry spell that parched fields earlier in the season had a dramatic impact on crops. Growers have gathered 73% of the 2011/12 corn crop, which the exchange said it expected to total 19 million tons, way down from initial estimates for a record crop of as much as 30 million tons.
"The advance of the harvest cements expectations for the lowest yield obtained in 15 years of 5.3 tons per hectare," the report said. As farmers advance with late harvesting, Rosario grains exchange held its outlook for 2011/12 corn production at 19 million tons