Lan and Tam complete merger to become world's second largest airline by market value
Sunday, June 24th 2012 - 15:02 UTC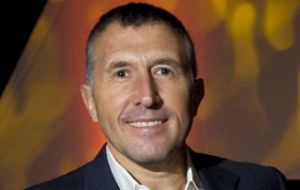 Chile's LAN Airlines completed a takeover of Brazilian rival TAM on Friday, creating the world's second-largest airline by market value in a deal that executives expect to yield up to 700 million dollars in costs savings within four years.
The new carrier, called LATAM Airlines Group, takes to the skies at a time of slowing economic growth and demand for air travel in Brazil, Latin America's biggest aviation market. That means the airline will need to adopt strict cost cuts to boost profits in a challenging market grappling with high operation costs and fierce competition from smaller rivals.
Chief Executive Enrique Cueto said he expects the Santiago-based carrier to win investment-grade debt ratings within a year mostly because of its ability to produce significant cost savings. He said the airlines will focus on improving performance in Brazil and ruled out significant layoffs during the combination.
"We will focus on Brazil and, as LATAM, we will introduce important changes in the local airline market," Cueto said in Sao Paulo. "There are great opportunities stemming from stimulating demand and enforcing a disciplined use of capacity, something that hasn't happened in years".
The creation of LATAM Airlines comes amid growing mergers and acquisitions activity among airlines in Brazil as carriers struggle with high labour costs, an unwieldy tax burden and overcrowded airports. Industry consolidation and reduced capacity by TAM arch rival Gol Linhas Aéreas should help improve profitability for LATAM, which will count on scale gains from the merger.
Rapid growth in Brazil, by far the largest airline market in Latin America, drove ticket prices down, pressuring profits at TAM, Gol and other carriers in spite of soaring demand for air travel.
Chile's Cueto family, the majority shareholders in LAN, came to São Paulo to announce the success of a plan to de-list TAM shares in Brazil after 95.9% of the latter's shareholders tendered their stock in a swap. A minimum two-thirds of all TAM shareholders was required to approve the transaction.
The share swap was the last step before completing a takeover that was first announced in August 2010 and went through tough regulatory scrutiny in Chile, where LAN enjoys a dominant market position.
The completion of the tie-up will allow LATAM Airlines to generate additional revenues and cost savings between 170 million and 200 million in the first year of operations.
LATAM Airlines will fly to as many as 150 different destinations in 22 different countries, stretching from Frankfurt to Sydney.
LAN's and TAM's revenues exceeded 13.3 billion dollars last year, and their combined market value is second only to Air China among the world's airlines.