Lugo will attend Mercosur summit; Unasur chair transfer to be advanced
Monday, June 25th 2012 - 06:47 UTC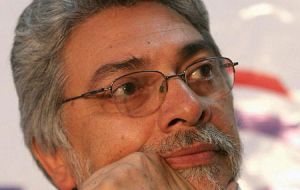 Paraguayan removed president Fernando Lugo denied legitimacy to the administration of his successor Federico Franco and announced he will be travelling next week to Mendoza for the Mercosur meeting of presidents scheduled for next June 29.
"We're going to be next week in the Mercosur summit" said Lugo on Sunday during his usual open microphone exchange with followers and the press who rallied at the door of his home in Lambaré, a neighbourhood in the outskirts of Asuncion.
"President Lugo will be travelling to Mendoza next week, although his attendance will not be official but "testimonial" said Augusto Dos Santos, the ousted president former Information Minister.
Lugo also revealed that since Paraguay currently holds the rotating presidency of the Union of South American Nations, he had spoken with Peruvian president Ollanta Humala who is scheduled to succeed him as head of Unasur, "so as to advance the transfer of the Presidency", sometime next week.
"It has to be decided whether the transfer will take place in Peru or if we are going to hold both summits jointly, probably in Mendoza", said Lugo who accepted the removal decision by the Legislative and called on his followers "to protest peacefully for the return of the interrupted constitutional order".
Franco's government "is not a legitimate government; it's a fake government, and the people do not accept it" said Lugo.
The leader also announced that on Monday he will convene a "democratic restoration cabinet" at the seat of a small political party in downtown Asuncion two hours before the taking oath ceremony at Government House of the new cabinet of President Franco.
Former bishop Lugo who was about to begin his last year in office was removed following a 'summary' political impeachment with the support from virtually all the political forces with congressional representation and in a record time breaking of 30 hours between Thursday and Friday last week. The Lower House voted 76 to 1 to begin the impeachment and the Senate which rules on the initiative supported it by 39 to 4.
The removal was seriously questioned by South American countries and several of them have withdrawn their ambassadors. Venezuela went a step further and cancelled all oil supply to Paraguay.
The new Foreign minister Jose Fernandez in a meeting with foreign correspondents said he was convinced Paraguay "can not be sanctioned by neighbouring countries" and mentioned countries such as Spain and Germany that have accepted the new government from the moment Lugo had abided by the result of the impeachment.
However Lugo said that he accepted the decision on Friday to avoid a "blood bath", and it is not true that the Paraguayan people is pleased with "the parliamentary coup" which has meant the Executive is now in the hands of Federico Franco.