Paraguay "back to business as usual" but with a shadow "legitimate" government
Wednesday, June 27th 2012 - 08:20 UTC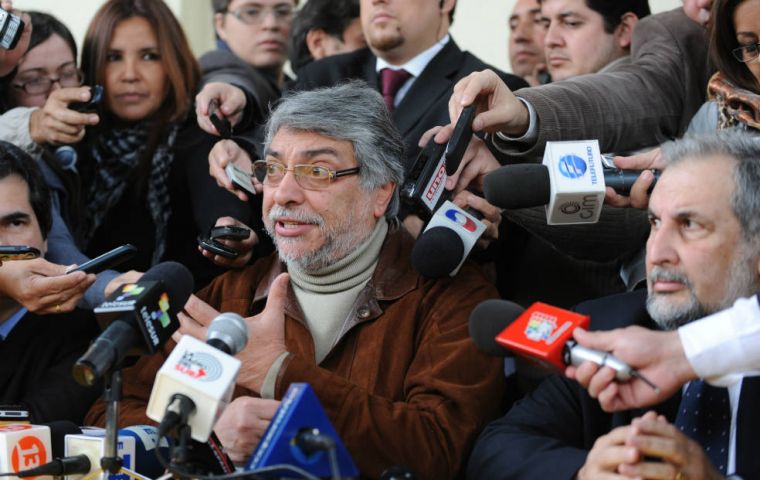 Ousted Paraguayan president Fernando Lugo announced on Tuesday that he will not be attending the coming Mercosur summit scheduled to take place this Thursday and Friday in Mendoza.
"I have just decided I will not be attending the Mercosur summit," he said while talking to the Argentine state news agency Telam at the temporary headquarters in Asuncion from where he is carrying out his activities since he was removed from office last week following impeachment and replaced by Vice-President Federico Franco.
Lugo explained that his reason not to attend the meeting in Mendoza is because "he doesn't want to influence any possible decisions that Mercosur member countries might take in relation to Paraguay".
The former bishop last Friday formally accepted the decision from the Paraguayan congress removing him from office following a vote of 39 to 4 and 2 abstentions, and called several times on his followers to march peacefully.
However over the weekend he announced a parallel "legitimate" emergency cabinet that will work for his reinstatement and called on his followers to a peaceful resistance against the "illegitimate" government of his former vice-president and now head of state until August 2013, Federico Franco.
Lugo has the support of the rest of the South American continent's leaders for having been removed without guaranteeing his right to due process in what was described as a "summary trial".
Likewise the new government was banned from the Mercosur summit, even when the next steps to follow regarding the outcome of the Paraguayan political crisis and measures to be taken, is not clear much less unanimous among the Mercosur and Unasur members.
Meanwhile President Franco has finished naming and taking the oath to his cabinet ministers and called on neighbouring Brazil and Argentina for understanding of the situation and promised governance and respect for democratic institutions.
Franco said it was his duty to ensure peace and guarantee humans rights and insisted that "life is back to normal" in the country, including the resumption of the football league matches suspended over the weekend.
"The target is from my job to transmit to the international community that things are back to normal and that this government is completely democratic, with total abidance of the constitution and the rule of law", said Franco talking with foreign correspondents.
"With the help of God and the Virgin and also from you international communicators we will be delivering office on 15 August 2013 and hopefully in a more organized country" said Franco who promised to fulfil all that was promised and not completed during the three years of Lugo.
Regarding Lugo's attempts to lead peaceful resistance marches to recover his post, Franco said "we guarantee the rule of law, people can turn out to the streets and express freely their ideas but we are not going to tolerate excesses"
Finally he recalled the close links with Brazil and Argentina, the two large neighbours of the land locked country with which they share two main hydroelectric dams (Yaciretá and Itaipú) that provide energy to Buenos Aires and Sao Paulo.
"I'm not going to say a single word against President Cristina Fernandez; I'm going to make my best so that President Cristina understands the close links with Paraguay and our clear joint commitment with Yaciretá".
Likewise "I request that President Dilma Rousseff consults with her fellow citizens who live in Paraguay about the situation" said Franco. Known as 'brasiguayos' they totalled 80.000 in the 2002 census but are now half a million according to the Paraguayan president who on Tuesday received a delegation expressing support for the new government.